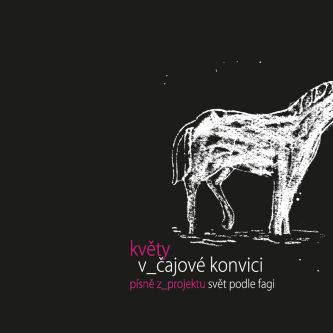 V čajové konvici
ABOUT
A little bit different Květy

You will hardly find more outstanding representative in the field of alternative acoustic rock music than the band Květy from Brno. The band now comes with a new album called "V čajové konvici/In a Tea Pot"which bears the subtitle "Songs from the project World according to Fagi" and stands out among other studio albums.   

"I'm 13-year-old comic book character, in black and white, flat, I don't get along and nobody gets along with me. I'm Fagi!" www.fagi.cz

Of course, the distinct style of the leader, author, guitarist and singer Martin E. Kyšperský and the entire band remains; it is so characteristic that from the first notes you have no doubt about whose album it is. Yet the "V čajové konvici"album differs from the previous studio albums a bit more than before.  Firstly, the songs on the album were originally created for the theatrical performance "Svět podle Fagi/World According to Fagi", secondly, one quarter of the lyrics was created by somebody else than Martin E. Kyšperský and thirdly, famous Czech actor Karel Heřmánek reserved an entire song for himself on the album.

But to avoid confusion, the album is not a record of theater songs, as made clear by Martin E. Kyšperský: "The album "V čajové konvici" is not music for a theater. These are songs from the project "Svět podle Fagi/World According to Fagi". This project consists also of theater performance of DNO Theater and well as the published comic book and Facebook domain. I was involved in the project, I was invited to attend.  All songs were composed on the basis of this initiative and alternately appear in theater performance as well where I perform regularly. Just simple, easy songs which we wouldn't create otherwise."

In some cases, however, the album resembles the previous recording by Květy. Again, it has the raw sound by Ondřej Ježek and you can also find here a variety of guests.  The guest singers are Lenka Dusilová, Jana Kaplanová, Kristýna Lhotáková, Lucie Vítková and others.  Of course, the songs by Martin E. Kyšperský and Aleš Pilgr remain, as well as the characteristic sound and mood of Květy; those are the unmistakable constants.  


The album "V čajové konvici/In a Tea Pot" is possible to listen to without any knowledge of what is the performance about and it can also serve as a ticket to the world of Fagi. Within the project, a ten-inch vinyl "Fagi EP" is released in limited edition with six additional tracks.


---
TRACKS
| | | | | | | |
| --- | --- | --- | --- | --- | --- | --- |
| | preview | name | time | download | price | free |
| | | 01 Nejtišší kapela | 03:03 | | € 0.41 | |
| | | 02 Medvídek | 01:19 | | € 0.41 | |
| | | 03 Osnova | 03:19 | | € 0.41 | |
| | | 04 Noc | 02:45 | | € 0.41 | |
| | | 05 Kpt. Nemo | 01:16 | | € 0.41 | |
| | | 06 Šnek | 02:53 | | € 0.41 | |
| | | 07 O cestování | 04:32 | | € 0.41 | |
| | | 08 Oves miru | 02:51 | | € 0.41 | |
| | | 09 Malá přítelkyně | 02:48 | | € 0.41 | |
| | | 10 Kpt. Lžičko | 03:14 | | € 0.41 | |
| | | 11 Motorka | 00:24 | | € 0.41 | |
| | | 12 Poslední tančírna v Praze | 02:53 | | € 0.41 | |
| | | 13 Snajpr | 02:54 | | € 0.41 | |
| | | 14 Zdají se androidům sny o el. varhanách ? (revival) | 03:47 | | € 0.41 | |
| | | 15 Zuzana | 03:06 | | € 0.41 | |
---
YOU MIGHT BE ALSO INTERESTED IN
Alternative | Folk | Lo-fi | Rock
© Indies Scope

IČ 105 34 181 / Dolní Loučky 191 / 594 55 Dolní Loučky u Brna