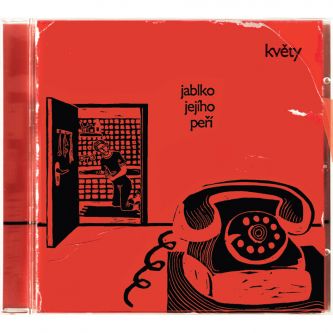 Jablko jejího peří
ABOUT
Re-release:
added three new tracks - Je sychravý říjen  (02:05), Ostatní stromy (04:18)   Úřad (03:14) -  recorded 2010 ,
remastered
new cover - digipack

The first album of the alternative band Kvety from Brno, which it recorded during March and April in the studio Střelice will have the title "Jablko jejiho peri" (Apple of her Feather). After break-up of the bands Sledě, živé sledě, Dunaj or Z kopce it was the band Květy that took up the torch of alternative stage in Brno. With its unconventional acoustic bigbeat it joined the top of the alternative stage in Brno which is at present represented by the band Ty Syčáci or by Vladimír Václavek.
---
TRACKS
| | | | | | | |
| --- | --- | --- | --- | --- | --- | --- |
| | preview | name | time | download | price | free |
| | | 01 Výroba nábytku | 03:34 | | € 0.41 | |
| | | 02 Pasáček ovcí | 02:38 | | € 0.41 | |
| | | 03 Kytka | 01:31 | | € 0.41 | |
| | | 04 Hrdlička | 03:28 | | € 0.41 | |
| | | 05 Půllitr a sklínka | 03:36 | | € 0.41 | |
| | | 06 Tugador | 05:04 | | € 0.41 | |
| | | 07 Baktáněk | 03:58 | | € 0.41 | |
| | | 08 Zhasněte žampiony | 02:48 | | € 0.41 | |
| | | 09 Vodní | 03:50 | | € 0.41 | |
| | | 10 Francouzská | 03:48 | | € 0.41 | |
| | | 11 Taťána | 04:12 | | € 0.41 | |
| | | 12 Sen z vany | 03:30 | | € 0.41 | |
| | | 13 Je sychravý říjen | 02:05 | | € 0.41 | |
| | | 14 Ostatní stromy | 04:18 | | € 0.41 | |
| | | 15 Úřad | 03:14 | | € 0.41 | |
---
YOU MIGHT BE ALSO INTERESTED IN
Alternative | Rock
© Indies Scope

IČ 105 34 181 / Dolní Loučky 191 / 594 55 Dolní Loučky u Brna