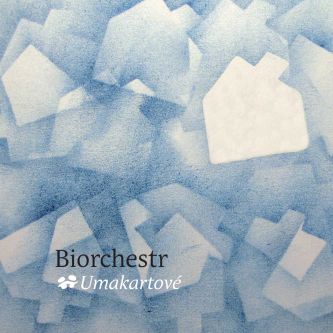 Umakartové
ABOUT
"Umakartové" is the title of the new album of freak-folk duo from Brno called Biorchestr. Genre-wise, the songs are somewhere between folk and electronic music. The whole album, including the original cover and a game, shows how playful music can be. The record comes in two versions. The first one is a limited edition in special digipack cover and it's a combination of 12 original songs and a board game (only in Czech) whose playing is associated with listening to the album. The second version is in a plastic cover and doesn't include the game; it is therefore a common CD in conventional packaging. Both the songs on the album and the game are created by Aleš Pilgr (Květy etc.) and Jana Pilgrová in cooperation with Tomáš Háček who produced their new album.

The songs on the record are firmly based on singer-songwriter experience of Aleš Pilgr who is the author of the music for all those songs. The traditional songwriting is closely connected to electronic sounds, samples and passages. Aleš Pilgr is still better known as the drummer of the bands Květy or Ty syčáci.  One might expect that on "his own" record he would try to show off all his drumming abilities. But it's exactly the opposite. "In Biorchestr I'm not trying to present myself as a drummer. More like a guitarist, singer and composer. Of course, I play the drums here too, but I'm trying not to push it to the forefront."

The direct connection between the title "Umakartové" and the accompanying board game (note only in the limited edition) explains Aleš Pilgr: "Umakartové (Formica beings) are beings living secretly in every household and they save it from careless inhabitants." However, if you want to play their game, you would have to be at least two listening to the album. The game is for two to six players.  

The album is being released under the producer guidance of Tomáš Háček.  Aleš Pilgr explains the reason why the band chose him: "We've known the work of Tomáš for a long time from his projects such as Listolet, Huso and Fungalvaz and we felt that he would be an ideal partner for cooperation. He is a very talented composer, arranger and we like the way he can connect electronic sounds with acoustic instruments."

The whole record is then framed by playful lyrics by Aleš and Jana Pilgrová and Tomáš Klášterecký and the perfect mix by Ondřej Ježek. The result is an original complex album which is able to draw its owner into its funny world.


---
TRACKS
| | | | | | | |
| --- | --- | --- | --- | --- | --- | --- |
| | preview | name | time | download | price | free |
| | | 01 Plyšové hračky (pokojíček) | 04:43 | | € 0.41 | |
| | | 02 Nedosažitelná | 03:01 | | € 0.41 | |
| | | 03 Pavučina | 03:20 | | € 0.41 | |
| | | 04 Na hrotu vah | 03:30 | | € 0.41 | |
| | | 05 Prach a přažce | 04:05 | | € 0.41 | |
| | | 06 Telefon | 03:10 | | € 0.41 | |
| | | 07 Dálnice | 02:41 | | € 0.41 | |
| | | 08 Na vodě | 01:47 | | € 0.41 | |
| | | 09 Sklenka | 04:02 | | € 0.41 | |
| | | 10 Mlíko | 03:02 | | € 0.41 | |
| | | 11 Dřevorubec | 03:08 | | € 0.41 | |
| | | 12 Ale dnes ještě ne | 04:20 | | € 0.41 | |
---
YOU MIGHT BE ALSO INTERESTED IN
Alternative | Folk
© Indies Scope

IČ 105 34 181 / Dolní Loučky 191 / 594 55 Dolní Loučky u Brna