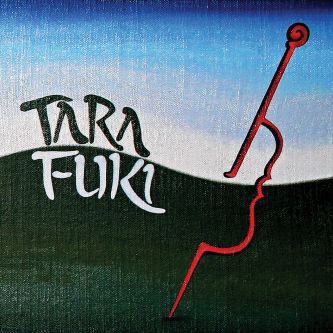 Auris
ABOUT
Sound magicians with violoncellos, Tara Fuki duo, recorded the third album and named it "Auris" (from Latin, meaning an "ear", but also to hear and listen carefully). Their previous albums met with great success both domestic and international and brought Tara Fuki to the top of the Czech alternative scene. The band even gained two awards of the Academy of Popular Music "Anděl 2001" for the debut album Piosenki do snu.

This time, Tara Fuki with the contribution of invited guests offer their listeners an exceptional music tidbit. Contrary to the previous recordings, Auris is emotionally richer and deeper, livelier and with sound that is unique on the Czech musical scene. In ten compositions, the listener is captured by the lightness with which Tara Fuki incorporate their cellos into the gurgling potion of tones let out by mysterious instruments such as Swiss hangs, Indian tabla, Pakistani kanjira and with which it engagingly caresses instruments almost classical (piano, guitar and bass clarinet). The enormous power of artistic expression of Tara Fuki dwells in their utterly natural vocal spontaneity and perfect coordination based on mutual complementation. Dorota's mighty and velvet dark alto underlined by Andrea's frail soprano gives origin to unique hues and nuances. Polish lyrics (mainly written by D. Barová) inspired by personal relationships and intimate conversations between two people, present a powerful testimony. With the help of precisely cut crystal clear music they enable a multiple view of dark recesses of the kaleidoscope of the human soul. The overall sound of Tara Fuki has been extended with new instruments and also with a whole range of means of expression, and thus we are accompanied through the music waterfall by bewitching incantation whisper and lyrical jazz ballad to earthy ecstatic trance, in order to eventually hear two naked voices highlighted.

The songs originated gradually on travels, during breaks between concerts, and they were most intensely worked on during the heat of last summer; they were recorded before the end of the year in the Prague studio of Petr Piňos. The producer and sound director is Aleš Hyvnar (Al-Yaman), who discreetly wrapped the remarkable music world of Tara Fuki in the spices of a very contemporary dimension. The preparation of the new album took longer this time that it was with the previous ones due to the fact that Andrea Konstankiewicz has moved to France for good.
Andrea answers the question whether Tara Fuki is happier to give concerts in this country or abroad: "The most beautiful concerts are in places where we manage to create a special atmosphere. When the air suddenly thickens and time stops in one magic moment: this happens when the audiences start to breathe with us or they suddenly hold their breath."

The song "Lej, lej" has been provided with a video clip, recorded by Marta Svobodová, the front woman of Budoár Staré Dámy band.


---
TRACKS
| | | | | | | |
| --- | --- | --- | --- | --- | --- | --- |
| | preview | name | time | download | price | free |
| | | 01 Lej,lej,lej | 03:48 | | € 0.41 | |
| | | 02 Ty i ja | 03:11 | | € 0.41 | |
| | | 03 Niezawsze | 05:16 | | € 0.41 | |
| | | 04 Slady | 04:14 | | € 0.41 | |
| | | 05 Sloneczko | 04:13 | | € 0.41 | |
| | | 06 Czerwone jabluszko | 05:26 | | € 0.41 | |
| | | 07 Majli | 04:26 | | € 0.41 | |
| | | 08 Mily mój | 02:29 | | € 0.41 | |
| | | 09 Intro | 01:21 | | € 0.41 | |
| | | 10 Klucz | 04:59 | | € 0.41 | |
| | | 11 Biale fale | 05:44 | | € 0.41 | |
---
YOU MIGHT BE ALSO INTERESTED IN
Acoustic | Alternative | World music | Jazz | Folk
© Indies Scope

IČ 105 34 181 / Dolní Loučky 191 / 594 55 Dolní Loučky u Brna