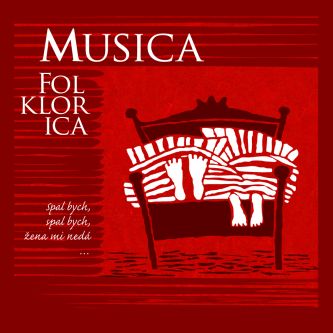 Spal bych, spal bych, žena mi nedá
ABOUT
When we say "ščeglivé songs",  to people who don't know anything about Horňácko region dialect it probably wouldn't  mean much. But when we substitute the word "ščeglivé" with the word saucy, it is now more comprehensible even for people unmarked by folklore. Musica Folklorica is now releasing a set of "ščeglivé" songs not only from Horňácko region on the album called "Spal bych, spal bych, žena mi nedá...".  On the recording you can listen to Moravian and Slovak folk songs with a more or less erotic content which are full of humor, maybe sometimes even tragicomic one.  All is handled with sensitivity and insight which give the proper "gríf" to this subject.
 
"Spal bych, spal bych, žena mi nedá…" As the name suggests, the contents of this album are funny, so-called "ščeglivé" songs where the relationship between a woman and a man plays a primary role.  After looking into the famous song collections, it would seem that the theme verging on erotica wasn't typical for folk song writing, and so everything is the work of modern era. But the opposite is true. Due to the fact that collectors came mostly from the ranks of the clergy and teachers, often the information recieved were distorted and the "inappropriate" material was intentionally withheld.  In the modern collections similar inaccuracies are, fortunatelly, not the case anymore, even though it is obvious that the collectors' taboo in the past has changed things. The rhythm and melody of these songs undoubtedly contributes to the specificity of folk songs of erotic nature; they are often tightly bound to a specific dance from the Horňácko region and Kopanice in the Myjava region.
 
While working on the album, Musica Folklorica didn't rely only on the available written records.  Musicians were trying to process unpublished songs known only from oral tradition. In this respect, the great contribution was the extensive song repertoire of, now sadly deceased, Luboš Holý, who was at the initial preparations of this musical medium. "Sada Ej, na tem našem díle",  recorded in mid-2010, is also the last studio recording of this excellent singer. Regarding the above mentioned facts, it is necessary to highlight the documentary value of this unique musical project that will certainly appeal to a wide circle of listeners across generations and will provide new impuls for studying this so far insufficiently mapped part of folk creativity.
 
In addition of the voice of the late Luboš Holý,  listeners can look forward to Martin Hrbáč, Veronika Malatincová, Martin Prachař, Tomáš Svoboda, Miroslav Dudík and the girls' choir Oskoruša.


---
TRACKS
| | | | | | | |
| --- | --- | --- | --- | --- | --- | --- |
| | preview | name | time | download | price | free |
| | | 01 Nebudem sa ženiť ešte; Nepovedaj, dievča | 03:54 | | $ 0.40 | |
| | | 02 Galánečky moje; Máło sem sa zabavił;Letěła husička | 04:00 | | $ 0.40 | |
| | | 03 Stratela som zrkadlo; Ach Bože mój, gde je ten;... | 03:04 | | $ 0.40 | |
| | | 04 A tá moja, nemoja; Hore hájem obłúkem; ... | 03:40 | | $ 0.40 | |
| | | 05 Moja žena rozum nemá; Ja som tvoja poddaná; ... | 04:24 | | $ 0.40 | |
| | | 06 Ženo má, ženo má; Už sem sa oženił; ... | 05:26 | | $ 0.40 | |
| | | 07 Tajela som, tajela; Moj milý mužíčku;... | 03:49 | | $ 0.40 | |
| | | 08 Ej, na tem našem díle; Ja nesceła hrdlička | 03:07 | | $ 0.40 | |
| | | 09 Zahrajte mi, muzikanti; Gde ju máš, Magdalénko;... | 03:40 | | $ 0.40 | |
| | | 10 Zamírił na hołúbka; Hore dědinú šeł; ... | 04:33 | | $ 0.40 | |
| | | 11 Išel kmoter s kmotrú; Žena muža;... | 02:22 | | $ 0.40 | |
| | | 12 Spal bych, spal bych, žena mi nedá | 03:38 | | $ 0.40 | |
---
YOU MIGHT BE ALSO INTERESTED IN
Ethno | Folklor | World music
© Indies Scope

IČ 105 34 181 / Dolní Loučky 191 / 594 55 Dolní Loučky u Brna