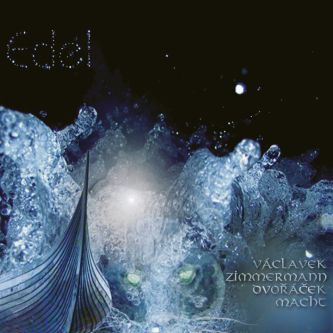 Edel
ABOUT
Vladimír Václavek is back after three years with a new recording and this time with a new sound as well. After a series of peaceful and meditative albums Vladimír Václavek comes with a recording which extends its focus towards the rock shores of Danube thanks to his guest musicians. Miloš Dvořáček is a constant in cooperation with Vladimír Václavek in recent years but there are musicians from neighboring Germany appearing on the album EDEL as well: guitarist and composer Frieder Zimmermann and drummer Matthias Macht. Together, this quartet has created a colorful original recording which certainly stands out in the rich discography of Vladimír Václavek.

If you don't know Vladimír Václavek, you've probably never heard of alternative music. Vladimír Václavek has over twenty years represented the top of Czech alternative scene. Besides Pavel Fajt or Iva Bittová he was one of the creators of Brno alternative music. In recent years he has recorded mostly solo albums (the CD Písně nepísně (2003), Ingwe (2005)), but the last one called "Život je pulsující píseň" (2007) was recorded with Miloš Dvořáček. Now he invited international artists to cooperate with him.

Frieder Zimmermann is not only very sought-after composer for his scenic music which he created for many documentaries, stage and radio plays, but also an excellent guitarist (a pupil of Robert Fripp). This connection with Vladimír Václavek has brought with it significant spark resulting in songs that almost evoke the era of the legendary band Dunaj. Unlike the Dunaj, the new album is offering more percussion and drums which is obviously due to two drummers now. Matthias Macht completes Miloš Dvořáček in original way and both create a wonderful rhythmic moments which are blending and some dreamy songs have relentless rock drive.

Vladimír Václavek likes setting poems to music on his albums, e.g. the poems by Bohuslav Reynek or Antonín Přidal. On the album Edel he refrained from seeking foreign poetic texts and songs with lyrics are his own or Tanji Ebeling's. 

The album Edel is an interesting continuation on the musical journey that the unique musician and composer Vladimír Václavek began with his first solo album "Jsem hlína, jsem strom, jsem stroj". But even though the path is winding and full of surprises, the music of Vladimíra Václavka has always something to say.



---
TRACKS
| | | | | | | |
| --- | --- | --- | --- | --- | --- | --- |
| | preview | name | time | download | price | free |
| | | 01 Ouverture | 04:48 | | $ 0.40 | |
| | | 02 Pohádka | 08:47 | | $ 0.40 | |
| | | 03 Schneeleopard | 06:45 | | $ 0.40 | |
| | | 04 Rodeo | 03:43 | | $ 0.40 | |
| | | 05 Vikingům | 04:13 | | $ 0.40 | |
| | | 06 Horská jeskyně | 04:58 | | $ 0.40 | |
| | | 07 Radio Leben | 06:12 | | $ 0.40 | |
| | | 08 Edel | 07:21 | | $ 0.40 | |
---
VLADIMÍR VÁCLAVEK & DVOŘÁČEK & ZIMMERMANN
YOU MIGHT BE ALSO INTERESTED IN
Acoustic | Alternative | Rock
© Indies Scope

IČ 105 34 181 / Dolní Loučky 191 / 594 55 Dolní Loučky u Brna