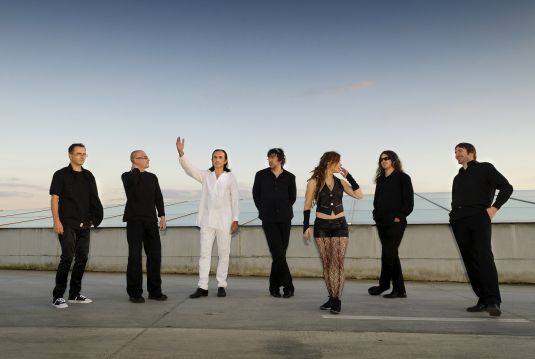 Schodiště
The band regularly performs mostly in clubs and at festivals across the country; for 28 years of their existence they have performed approximately one thousand concerts. First, as an aftermath of the new wave in the eighties as a precursor of today's ska, then after the velvet intermezzo they were absorbing more and more influences and step by step they became one of the most sought-after local club bands.

It was definitely confirmed by the albums Ukazovák nasliněnej (1997), Svinska Pržola (2001), later Mokrý prádlo (2005). After shortening the original name and replacement of three members, the sails are stretched again (in 2007 another studio album, Tanec, was released), and they continue the endless voyage on Czech stages, energetically and at full throttle. Two years ago, the cut in their discography, the live DVD Chcete rokenrooool??! (nominated for the DVD of the Year in the poll Žebřík) and especially the brand new studio album Roztoky (2011) show that  the band is stronger and more enthusiastic than ever. Another prove is the young audience in front lines which dances together with the old-timers to the new songs (Nebudu, Stařena) and to the good old ones as Beze vší poezie, Ve čtyři ráno or Pytlíky ČSA.

It is not enough to hear Schodiště play, they must be seen. Their genre range has gained new dimensions; their old pigeonholes such as pub "šraml", reggae or ska are no longer determinant. The band takes from different musical styles with courageous ease everything that they can reach to ultimately return humbly to the song, yet clad in colorful coat. And above all, the song always has unique lyrics which are of equal importance to Schodiště as the music is. Slightly sarcastic, black humor-like and touching, experienced or imagined, going through everyday little things and big things of what we ourselves experience.


© Indies Scope

IČ 105 34 181 / Dolní Loučky 191 / 594 55 Dolní Loučky u Brna