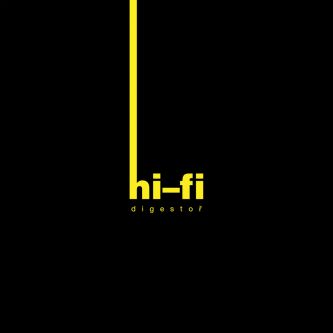 Digestoř
ABOUT
"'Freetekjazz' is a combination of freedom, techno culture and jazz. What else can you ask for? "

The debut album of dance-jazz band Hi-Fi is called Digestoř ("Fume-Hood") and the band convincingly shows here how to skillfully combine playfulness and spontaneity with jazz, electro, techno and references to rock legends such as Frank Zappa. Style-wise, Hi-Fi draws from many musical sources; from hip-hop and reggae to techno and drum'n'bass. The author of all music and lyrics and band leader of Hi-Fi in one person is Petr Wajsar who is also a member of the group EwaVe či Mandelbrotovy kostičky, an author of music for the musical Pornohvězdy/Pornstars and of many other projects.   

Precision sound of the album Digestoř originated in Largo studio, how the members of the group put it, "in a family atmosphere where we had a lot of space for work, so the arrangements and 'sound design' on this album are the price we had to pay for sitting many days in front of the speakers. On this record there is the majority of substantial songs from the first period of our band; they were adjusted for current four-member group." Hi-Fi originally had up to eight members and that's the reason why some songs were given new arrangements. Overall, for all their playfulness, the songs are not missing the rock energy and the captivating charm of dance rhythms. The opening song "Tygá" will take us through 'freetekjazz' nooks and in allegorical and echoic lyrics you can even hear the name of the album Digestoř. Petr Wajsar explains why the "fume-hood": "It is even easier to remember than "Tygá" or "Makumba". And that is, I would say, already too much anyway." Most of the lyrics are full of word plays which is evident for example in  "Tekeiro", a song of which lyrics are dedicated to all who don't understand Italian or "Rosa Kaitenna" which is a wistful ballad about how an innocent girl was righteously punished for her sincere love.  The language in which the song is sung is not Romany, although at first listening there is a clear similarity there. Listening to the album also influences the kinetic center of the listener anywhere from light stamping his feet all the way to a dance orgy; from light jungle beat (Tekiero) through techno-funk rhythms (Indecisive Baby) or break beat (Buď jak Fík) to 'freetekjazz' (Tygá).  

The title song is "Makumba" which is based on reggae and has a serious dance rhythm which thanks to many word plays helped to the director Adrian Kukal to create a very witty video. In addition to Hi-Fi members and their fans there is an essential role for the actor Jiří Lábus as well. On the top of that, its final version shows that the members of Hi-Fi don't take themselves seriously at all. This feature of the band is proven also at the concerts where there is an amazing atmosphere created by their music but also by a fresh communication with the audience.


---
TRACKS
| | | | | | | |
| --- | --- | --- | --- | --- | --- | --- |
| | preview | name | time | download | price | free |
| | | 01 Tygá | 03:59 | | $ 0.61 | |
| | | 02 Tekiero | 05:39 | | $ 0.61 | |
| | | 03 Makumba | 03:40 | | $ 0.61 | |
| | | 04 Indecisive baby | 04:30 | | $ 0.61 | |
| | | 05 Fivetechno | 08:43 | | $ 0.61 | |
| | | 06 Buď jak fík | 04:15 | | $ 0.61 | |
| | | 07 Ukolébavka | 06:29 | | $ 0.61 | |
| | | 08 Středověká | 05:17 | | $ 0.61 | |
| | | 09 Naša Rosa Kaietanna | 03:55 | | $ 0.61 | |
---
YOU MIGHT BE ALSO INTERESTED IN
Artrock | Electronic | Funk | Rock
© Indies Scope

IČ 105 34 181 / Dolní Loučky 191 / 594 55 Dolní Loučky u Brna