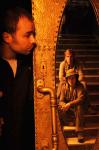 Unexpectedly, shortly after they released the album called Dream, one of the most respected bands of Czech rock scene decided to end their activities. Here is the press release of Zdeněk Bína, the founder of the band
 -123min. : "After so many beautiful concerts with such exceptional audience I realized that it's time to end this story of 'Minutes'. Recently we've been facing up many problems; solving them would require so much energy that I wouldn't be able to fully commit to the music for another year; music that is naturally living in me right now. That's why I'm glad that we leave behind I would say the best album of -123min. "Dream" and the memories of the extraordinary concert with Prague Chamber Philharmonics. At the same time I would like to express a huge respect to all who I used to meet at our concerts, because thanks to those people I lived through really happy years. I sincerely hope that my future music activities will bring people happiness as well." 
 

The album Dream that had earned excellent reactions from critics will probably be the last studio album of -123min. band, but definitely not the last one of the band leader Zdeněk Bína.  He decided to continue in his acoustic project where he will perform together with the bassist Jan Urbanec and their new album should come out next fall already. The first opportunity to see this project will be in the program Silvestrovská Noc s Andělem / New Years Night with Anděl, then in many other concerts they are planning for upcoming year, e.g. 14th of February in Brno within the birthday concert called "Lp MAM 20" to celebrate the 20th anniversary of INDIES in Fléda club.

Diskografie:

Dream - ©2009 Indies Scope MAM456-2
Zdeněk Bína guitars, vocals, percussion, keyboards
Fredrik Janáček bass, percussion, keyboards
Miloš Dvořáček drums

Mom - ©2005 Universal Music 987 374-4
Zdeněk Bína guitars, lead vocals & microhorns
Fredrik Janáček bass guitars, background vocals & micromoog
Martin Vajgl drums & percussion

XL Live - ©2004 Indies Records
Zdeněk Bína guitars, vocals
Fredrik Janáček bass & background vocals
Martin Vajgl drums
Miloš Vacík percussion
Zdeněk Zdeněk keyboards
Michal Žáček flutes&tenor saxophone

Home? - ©2002 Indies Records MAM 183-2
Zdeněk Bína guitars, vocals & ad. darbouka
Fredrik Janáček bass & background vocals
Emil Valach drums & pads

Try - 2001 Intermusic / ©2002 Indies Records int-0003-02-12-2
Zdeněk Bína guitars, vocals
Fredrik Janáček bass & background vocals
Emil Valach drums & pads

Shooba Dooba -  1999 Intermusic / ©2002 Indies Records int-9910-03-10-2
Zdeněk Bína guitars, vocals
Fredrik Janáček bass & background vocals
Václav Zima drums