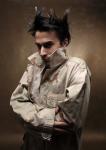 1. A new album after two years. How difficult was it to prepare new material after such a hectic last year when you performed a number of concerts both in the Czech Republic and abroad?
It was quite demanding, since we had to think about the band's future. The most difficult was to come up with different sound, the evolution of the very heart of music. However, we have managed at last. The sound is finished off and the second album, Reprezent, is there.

2. Why is the album called Reprezent?
The album was named after one of the songs of the album. And I think that the words "Gypsy.cz Reprezentant" are just great and to the point.

3. What makes the album different from the previous Romano hip hop?
As I said – mainly the sound. The two albums are incomparable as far as the sound goes. Many guests appear on the second album. The lyrics are very different on each album; I tried to write much more personally. There is actually a whole lot of differences.

4. When did you come up with the concept of the whol album? Was it only when selecting the songs in the studio?
I guess it might have been like that, yes.

5. The lyrics often contain some pretty rough language, did that ever cause you any trouble?
Well, young people today talk like that and they have always talked like that. Of course, it can cause some difficulties, especially at social events. But I don't think people listen that closely to rougher songs on the album.

6. Many of the songs on album are in Czech, are you planning on releasing it abroad, too?

We've been thinking of putting out an English edition, but so far, we've only been talking about it. I believe there will be one. This time we wanted to make an album more accessible to the domestic scene. We wanted it to be "more Czech".

7. Benga beating is a happy song which has been promoting the album since February. But the album also includes much more serious lyrics. What made you do this?
I guess it is based on the political drive of the band. We all know very well that we'll be political, even if it wasn't what we were trying to do. Finally we decided on mainly selecting songs with an actual "message". And I think ended up being a good move.

8. In terms of authorship, is the album mostly your work or is it the work of all members of the band?
For most part, it is the work of many people. Not only our band, but also the producer, sound engineer, other musicians, etc. It was like a jam in the studio. :) But I wrote most of the songs. I just wanted to say that it would not sound so good without other people.

9. You have recently been awarded with a golden album for Romano Hip Hop, is it important for you that people love the album so much?
For us it is most important to love our work – the music. And as long as we love it, we don't give a damn about how many albums we sell.

10. Among others, you have won a number of prizes, which one is the most important for you?
I think it is the Anděl (Angel) award in the of Discovery of the Year category. It gave us a kick to try and work more.

11. The album also includes a controversial song about Jiří Čunek – what was the decisive factor in including it on the CD?
Mr. Čunek is a topic in and of himself. We were annoyed that other people did not do much in protest against him, so we did it. Finally, the politicians unreasonably gave way, however Gipsy.cz is surely not going to give way. We are going to stay in this ring until Ivan Drago is down for the count. ;)