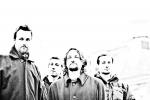 1. Some of the musicians has left the band during the recording of your previous record Kocourek a horečka. Did you not faced something similar when recording the new album?

Martin E. Kyšperský: We recorded our previous album Kocourek a horečka as a duo, but we became trio right afterwards. At the beginning of recording me and cellist Martin Růžička went to France for some playing, but after his departure we were joined by the basist Ondřej Čech. Therefore, we recorded the new album as a trio, but now in the time of its releasing, we are about to be joined by the new member, violin player Albert Novák. So, we are four, now.

2. Květy did a lot of live gigs during the last year. What is your typical audience? Did you not go through the blue states of minds, as it happens to the bands after spending too much time together?
We have not been through the blue states of mind, we are the grown up people, now, and everyone of us was a part of the band, which has fallen apart, so we appreciate there is no one literally unbearable in the band, right now .. it is a gift from the heaven above. We enjoy touring together, it is realy an adventure. We are glad that some poeple are able to unfasten themselves at our concerts …, but it is not essential. When they just sit and listen, that is a good think, too.

3. Did you tested some of songs from the new album at your concerts during the last year?
We played some of the songs long before the recording, the others we practices only few days before entering the studio. That is the way we do it. When I manage to collect songs, which "has to be" a part of the record, I always compose them in my mind and have a feeling there has to be something more on the album … I sum up what is unfinished in my mind, I finish it and prepare it for recording.

4. Květy has won Anděl Music Award 2006 in the genre category of Alternativa. Does it represent some advantage to the band? Was it a kind of commitment for you before recording the new album?
It definitely is a advantage since it is the most prestegious music award around. We appreciate a lot that we were chosen by the people who are intersted in music and know a lot of about it. However, we have doubts about some other winners and lots of things connected to Anděl Music Awards. Nevertheless, we were excited and found out the Award have authoritative impact on the wide public and music prommoters, also. We try to put maximum of energy into everything we do about music, therefore we feel some kind of commitment before every performance, let alone before recording an album.

5. What about the recording itself? You recoreded all of your previous albums in Broněk Šmíd´s studio, so it had to be like recording in your own living-room.
Broněk is a very gifted sensible and kind person. He is experinced enough to know when some critique is needed and after all the years we spent together we all fenefit a lot from this relationship, especialy from understanding each other. We could spare some money by recording some of the instruments at home, but it was better to do it this way … we enjoyed it, as American rock stars often put it, as a big party, baby :-)

6. Why is the album called Bullet stuck in succinite?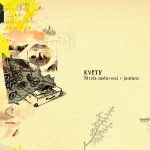 It has just popped up in my mind. From nowhere and suddenly I knew this is the title. I gave it a name and everything started to taste differently. If some other title has emerged in the back of my mind we would probably made a different record. It might sound weird, but it is thruth. I do not want to analyse these words, the should speak for themselves and there is no need for reducing a space for the listeners´ fantasy. It sounds to me as a title of some old-fashioned sci-fi novel, or probably it catches the state when you manage to record something which is still changing, on every concert … We are no experts in improvisation, however, we still let the interpretation run free and change the arrangements all the time. Moreover, title has certain melancholic flavour, also, which has a lot to do with the idea of sudden interruption of some running process - one of my secret personal obsessions. Well … enough fot this issue.

7. What differs new album from the previous record? What remained the same?
It is still us. We look for ourselves and we believe our looking could be fascinating for some people around us. Some songs are very raw and striking. The others are melodic, at least I think so, and that excites us, too. We have traverse, benjo and piano on our album … but that is not the main thing. We had an opportunity to choose between the songs for the first time in our career, at least another six tracks might be on the record … but that is not the main thing, also.

8. Marta Svobodová (singer of the band Budoár staré dámy) is a regular guest on your records, but there are some other guests on the new album. Which ones and why?
We invited keyboard player Milan Nytra, genial musician with extraordinary fantasy. He is concentrated, submissive and with the feeling. All of this makes him decent, but he is amazing. I saw trumpetist Michal Gera playing with Jan Spalený, one day, and his solos has touched me. I felt moved and saw a story behind him, he is the man. It was realy fun to work with them. That is the thing I love most about recording …

9. Which were your major inspiration sources for the album?
Everything is an inspiration, even the slightest pettiness. I would not change a thing in my past, even all those bloody things I have done and touched. In the process of artificial creation, everything is changing into something good, since art is surely able to change lives and the world into the better place. Pathetic answer, isn´t it? Even in my case!!! :-)

10. When will the record be baptized? Do you prepare some special little surprises for the concerts at which the album will be baptized?
There is one show sheduled for 13. of march at Kaštan, Praque. Probably, we are going to invite the guests who has contributed to the recording, all depends on time schedules of all the musicians. By the way, beautiful music video by Pavla Kačírková for the track called Cirkus could be found as a bonus on the record and we could screen it somewhere. I would like to see it big-seized … :-)