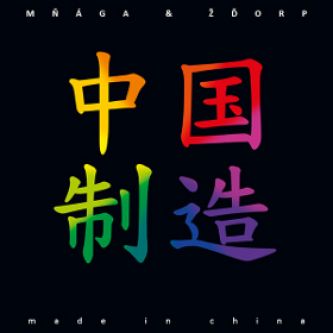 Made in China
Vlastní náklad / 2014
Genres:
rock
657002
ABOUT
Mňága a Žďorp band releases the ablum Made in China, recorded in Beijing
 
Mňága a Žďorp went this May to China to record their twelfth studio album called Made in China after 23 years since they released their most successful album Made in Valmez. "The whole thing was absolutely hectic, adventurous, unpredictable and new," recalls the Chinese adventure the singer Petr Fiala. The album contains 12 new songs.
 
"The entire China thing has been a tremendous experience! It was totally hectic, each day filled with events, it was through the roof. We forgot the keyboard at home, I twisted my ankle, occasionally someone always had diarrhea and during our performance at the Beijing festival we experienced a sandstorm. There was an amazing twenty-kilometer tour on bikes through the rainforest in Sichuan or a walk in the Tiananmen Square," explains the singer Petr Fiala.
 
The bold idea of Mňága a Žďorp to record the album in China came true mainly thanks to loyal fans who contributed to the band over half  a million crowns on a crowd funding server Startovač. The album was created in the Beijing studio A-string Entertainment.
 
"The first two days we were preparing stuff and I was running all around Beijing with our great assistant Martin Hošek from the Czech embassy and we were looking for missing parts of the equipment. The actual album was recorded in less than three days," Petr Fiala explains the work in studio. In the songs Rodné lány and Za teplých letních nocí there are three young Chinese girls as guests. "I didn't want any professionals, I just wanted girls who just like to sing sometimes," adds Fiala.


---
TRACKS
| | | | | | | |
| --- | --- | --- | --- | --- | --- | --- |
| | preview | name | time | download | price | free |
| | | 01 Rodné lány | 04:21 | | $ 0.40 | |
| | | 02 Zůstaň! | 03:15 | | $ 0.40 | |
| | | 03 Perfektní cíl | 02:23 | | $ 0.40 | |
| | | 04 Hledám svý stopy v rozšlapaným sněhu | 03:25 | | $ 0.40 | |
| | | 05 Začátek a konec | 03:08 | | $ 0.40 | |
| | | 06 Nepropustný zdi | 03:14 | | $ 0.40 | |
| | | 07 Ulice vdov | 03:32 | | $ 0.40 | |
| | | 08 Potkal jsem ve vlaku svou osudovou dívku | 03:00 | | $ 0.40 | |
| | | 09 Čas běží hladce | 04:26 | | $ 0.40 | |
| | | 10 Beznadějný případ | 03:34 | | $ 0.40 | |
| | | 11 Být jen tak | 03:22 | | $ 0.40 | |
| | | 12 Za teplých letních nocí | 04:06 | | $ 0.40 | |
---
YOU MIGHT BE ALSO INTERESTED IN
Rock
© Indies Scope

IČ 105 34 181 / Dolní Loučky 191 / 594 55 Dolní Loučky u Brna