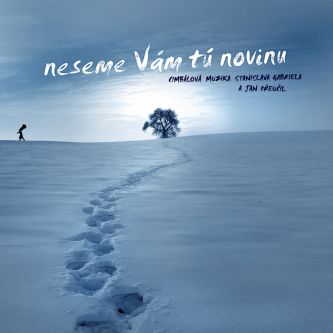 Neseme Vám tú novinu
ABOUT
During Christmas time various compilations and recordings appear regularly and they have little in common with the original meaning of Christmas, no matter how they present themselves on the outside.  The new record - Neseme vám tú novinu - by Dulcimer Band of Stanislav Gabriel brings Moravian songs with Christmas themes interspersed with spoken word by Jan Přeučil who reads Words of the Gospel according to Luke.  The album requires your attention and won't serve as the underlying "feel good melody" for the shopping frenzy. On the contrary, thanks to the excellent musical performances, the overall concept and song arrangements it will pull you out completely from commercial holidays and will offer ….. minutes of a unique experience.

The songs from the album Neseme vám tú novinu are divided into two contents. The first one,   Příběh o zrození (story of the birth) describes in songs and words of the Gospel the annunciation of the birth of Jesus Christ and the second one - Na koledě, contains known and lesser known folk carols.  All this performed by the singers Kristýna Daňhelová, Terezie Habartová, Stanislav Gabriel Sr. and the ensemble of the Dulcimer Band of Stanislav Gabriel.  As Tomáš Gabriel says, the project started already in 2010. ''This music project was realized for the first time as a concert at Christmas time in 2010 and based on responses of the visitors we decided to record also words of the Gospel. Everything remained as in the concert performance." On the album, there are also Christmas songs composed by the members of the dulcimer band of Pavel Šafařík and Stanislav Gabriel. The entire music content is in the quotations from the Gospel illustrated by the compelling voice of the actor Jan Přeučil, which the members of dulcimer band appreciate a lot. "Thanks to the music director Jiří Zobač we had the opportunity to address the excellent actor Jan Přeučil whose recitation has highlighted the timeless message of the Gospel."

Beautiful paper cover of the CD where the tracks of the "news" bearer in the snowy landscape lead towards the light, as a symbol of the path and the truth of Jesus Christ and also symbol of tree as a permanent victory of life over death.  A lone musician is the culmination of the story which takes place in a winter landscape and he is the one who carries on his news and message.

The Dulcimer Band of Stanislav Gabriel from Babice is a group of young musicians from the Uherské Hradiště region who are following the heritage of dulcimer bands from Dolňácko region. The band was established already in 1992 and released four excellent albums which are on the top of Moravian folklore.  


---
TRACKS
| | | | | | | |
| --- | --- | --- | --- | --- | --- | --- |
| | preview | name | time | download | price | free |
| | | 01 Byla zima | 02:30 | | $ 0.45 | |
| | | 02 Slova evangelia podle Lukáše (Lk 1,26-33) | 01:14 | | $ 0.45 | |
| | | 03 Stála Panenka Maria | 02:28 | | $ 0.45 | |
| | | 04 Byla sv. Dorota | 02:08 | | $ 0.45 | |
| | | 05 Slova evangelia podle Lukáše (Lk 1,34-38) | 00:59 | | $ 0.45 | |
| | | 06 Na nebi temném | 02:13 | | $ 0.45 | |
| | | 07 Slova evangelia podle Lukáše (Lk 2,1-7) | 01:17 | | $ 0.45 | |
| | | 08 Na nebi andělé | 01:13 | | $ 0.45 | |
| | | 09 Novina velmi dobrá | 02:02 | | $ 0.45 | |
| | | 10 Slova evangelia podle Lukáše (Lk 2,8-14) | 01:14 | | $ 0.45 | |
| | | 11 Sem poďte, pastýři | 01:30 | | $ 0.45 | |
| | | 12 Na nebesích svítí jasná hvězdička/Hop, valaši | 02:26 | | $ 0.45 | |
| | | 13 Hoja, Jano | 01:44 | | $ 0.45 | |
| | | 14 Neseme Vám tú novinu | 01:58 | | $ 0.45 | |
| | | 15 Krásná Panna | 02:12 | | $ 0.45 | |
| | | 16 Slova evangelia podle Lukáše (Lk 2,15-20) | 00:56 | | $ 0.45 | |
| | | 17 U Betléma dnes Maria | 01:53 | | $ 0.45 | |
| | | 18 Daj Pán Bůh večer | 01:52 | | $ 0.45 | |
| | | 19 Daj vám Pán Bůh, milí páni | 00:57 | | $ 0.45 | |
| | | 20 Vinšuju vám dobrý deň | 01:14 | | $ 0.45 | |
| | | 21 Kristus Pán se narodil | 02:33 | | $ 0.45 | |
| | | 22 Zvěstujem vám radost | 02:13 | | $ 0.45 | |
| | | 23 Nový rok běží | 01:07 | | $ 0.45 | |
| | | 24 Copak je to nového | 01:54 | | $ 0.45 | |
| | | 25 Vánoční obrázek | 02:48 | | $ 0.45 | |
| | | 26 Čtení z listu svateho apoštola Pavla Titovi (Tit 3 | 00:45 | | $ 0.45 | |
| | | 27 Ó, svatá dobo vánoční | 01:39 | | $ 0.45 | |
---
CIMBÁLOVÁ MUZIKA STANISLAVA GABRIELA
YOU MIGHT BE ALSO INTERESTED IN
World music | Vánoční hudba
© Indies Scope

IČ 105 34 181 / Dolní Loučky 191 / 594 55 Dolní Loučky u Brna