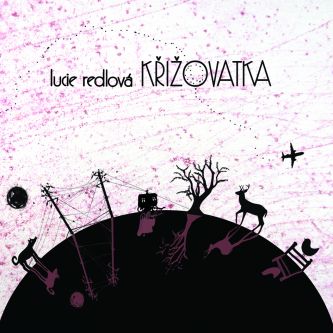 Křižovatka
ABOUT
The new recording entitled Křižovatka by Lucie Redlová is the second author album of this singer, artist, guitarist and mandolin player from Valašské Meziříčí. The CD documents the music shift of Lucie Redlová as an author and performer from folk singing towards rock roots. The album Křižovatka Redlová recorded, unlike the first completely solo album, together with her mates from the band Garde, which  has accompanied Lucie for two years now. Eleven songs have a relaxed, yet rock-like atmosphere given by a great American singer, musician and composer Tim Eriksen. He took care of the music production of the album which was recorded in the Jámor studio of Ondřej Ježek.

Already on the first solo album, Lucie Redlová bet on a foreign producer. In 2009 she recorded the album "První, poslední" which was produced by the Irish rocker Steve Wall. This time, the collaboration took place over the ocean, given the fact that Tim Eriksen lives in Massachussets. Preparation work for the album started about six months before recording. He even composed music for one of the songs. Lucie Redlová explains what was the cooperation all about: "The song Nalívej beautifully demonstrates the international cooperation and the use of modern communication technologies while creating this record (because since autumn we were sending Tim some band recordings and worked on them). My songwriter Radka wrote these lyrics in Constance, Germany where she currently lives, I translated and narrated it in Valašské Meziříčí in order for Tim to know how to pronounce each word (and I have to say that since he speaks Serbian, Czech wasn't such a big problem for him), Tim set it to music in Massachusetts, recorded the vocals and sent it back. We rehearsed the song later together in the studio, he accompanied me playing the Mexican twelve-string guitar called bajo sexto and African kalimba and we made it sound like kind of ethno-folk. But this is just one of the quieter and softer songs on the album, in a few more songs Tim plays the electric guitar and that's where we felt his biggest contribution – as a former punk rocker he really knew what he was doing", laughs Redlová.

The title "Křižovatka" (Crossroad) wasn't chosen by Lucie Redlová by chance. Besides the already mentioned shift from folk to rock or alternative approach to music, there are also crossroads of life. Unlike the previous album, this one has an internal development of lyrics. Most of the album is a result of author cooperation between Radka Bzonková (lyrics) and Lucie Redlová (music) and it is quite obvious. "The lyrics depict a woman in her different roles in an age when one changes from a teenager to a mother. While the biggest concern of a young girl is to enjoy life with friends or looking for a partner, the topic of an adult woman is maintaining relationship, coping with motherhood and marriage.  By blending visions of the world of three women who participate on the album, we get a whole which gives a strong and compact impression." The third woman and author (besides Radka Bzonková one text belongs to Lucie Redlová) represented on the album is the singer and songwriter Lada Šimíčková whose two texts were set on music by Lucie Redlová. Only one text comes from a man, the regular co-author of Redlová, Jakub Horák from Nový Bor – but he also fits into the overall concept of the album.


---
TRACKS
| | | | | | | |
| --- | --- | --- | --- | --- | --- | --- |
| | preview | name | time | download | price | free |
| | | 01 Sběračky čaje | 03:02 | | $ 0.40 | |
| | | 02 Indiánská | 03:29 | | $ 0.40 | |
| | | 03 Letní | 03:44 | | $ 0.40 | |
| | | 04 Dokonalá | 04:58 | | $ 0.40 | |
| | | 05 Je noc | 03:45 | | $ 0.40 | |
| | | 06 Kamarádi | 03:40 | | $ 0.40 | |
| | | 07 Keby ja vedela | 02:18 | | $ 0.40 | |
| | | 08 Jsi nejlepší | 03:48 | | $ 0.40 | |
| | | 09 Nalívej | 03:42 | | $ 0.40 | |
| | | 10 Nemluvná | 04:44 | | $ 0.40 | |
| | | 11 Na Lhotách | 04:44 | | $ 0.40 | |
---
YOU MIGHT BE ALSO INTERESTED IN
Folkrock | Rock | Folk
© Indies Scope

IČ 105 34 181 / Dolní Loučky 191 / 594 55 Dolní Loučky u Brna