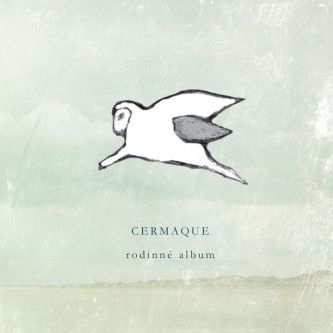 Rodinné album
ABOUT
This emotionally heavy author recording called Rodinné album/Family Album by Jakub Čermák aka Cermaque presents this charismatic singer-songwriter in more mature form, not only musically, but also lyrically. Don't be fooled by the name, the album is not for the whole family, but for everyone who appreciates intelligent lyrics and perfect folk songs.  

New solo album of Jakub Čermák is also an album of his extended, and not only musical family. What is determining for the entire album is the fact, that the recording was being created at a turning point - Jakub and his clarinettist Kai Mach during the recording both became fathers of their daughters Agata and Johanka (they manage to record them on the album and they "perform" in the song Antoníne). The shift into a new stage of life is one of the main themes of the album which from former hobo screams gets into more intimate confessions, search for the basic values and a critical, yet still conciliatory and loving reflexion of contemporary Central European reality.
 
Besides the members of the renewed band project Cirkus Cermaque there are many guests, musical aces among Jakub's friends - the members of the band Zrní, M. E. Kyšperský from Květy, accordionist and composer Lucie Vítková, guitarist Rémy Reber,singers Raisa Basinho and Iamme Candlewick or the world vice-master in playing electric drums Jarda Noga.
 
Fragile and impressive arrangements are enhanced - as opposed to previous albums - by more modern sound concept of the album which was created in collaboration with brothers Martin and Tomáš Havlena in Liberec studio Resound. The mastering was taken care of by Ondřej Ježek from the Jámor studio.


---
TRACKS
| | | | | | | |
| --- | --- | --- | --- | --- | --- | --- |
| | preview | name | time | download | price | free |
| | | 01 Popílek | 02:31 | | € 0.41 | |
| | | 02 Končetina | 04:27 | | € 0.41 | |
| | | 03 Rébus | 03:08 | | € 0.41 | |
| | | 04 Sýkorka | 03:38 | | € 0.41 | |
| | | 05 Uspávanka pro Lucinku | 03:27 | | € 0.41 | |
| | | 06 Bouřka | 03:48 | | € 0.41 | |
| | | 07 Sebastián | 02:29 | | € 0.41 | |
| | | 08 Jupiter | 02:38 | | € 0.41 | |
| | | 09 Resumé 26 | 01:59 | | € 0.41 | |
| | | 10 Bílý jelen | 02:14 | | € 0.41 | |
| | | 11 Dva vlci | 02:44 | | € 0.41 | |
| | | 12 Kokosovej suk | 03:26 | | € 0.41 | |
| | | 13 Antoníne | 03:55 | | € 0.41 | |
---
YOU MIGHT BE ALSO INTERESTED IN
Folk | Alternative
© Indies Scope

IČ 105 34 181 / Dolní Loučky 191 / 594 55 Dolní Loučky u Brna