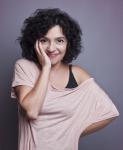 Singer Karolína Kamberská and artist Jana Hrušková joined to create a new Christmas video. Their clip was inspired by Karolína's fragile song Naděje (Hope) from her new album Říkadla a Kříkadla (Nursery Rhymes and Nursery Screams). Jana Hrušková combined sand semi-plastic and flat animation which resulted in colorful and magical reminiscence of "art brut".      
The song was arranged by Karolína's fellow worker Honza Ponocný.  

he new album of songwriter Karolína Kamberská, the author of all songs and former half of the duo Sestry Steinovy, is aimed at different audience than last year's solo debut called Hořkosladce. Although, it's not so very different. "It's an album of songs for children but when I was writing them I thought of the parents as well. There are plenty of jokes intended only for them because I think they would have to listen to the album many times. Children do love repetitions ad nauseam." The album is called Říkadla a křikadla (Nursery Rhymes and Cries) and it is as uncombed as its recipients. Fifteen songs and one bonus contain mainly a large dose of humorous children's poetry which is emphasized by the harmony of three experienced musicians. 
video "Naděje" zde

video "Naděje" na youtube
 Here is tip for another Christmas music video

 Tomáš Kočko & Orchestr - Koleda (The Carol) (Youtube) from album: http://www.indies.eu/en/alba/355/koleda/?idn=1

 Karolína Kamberská