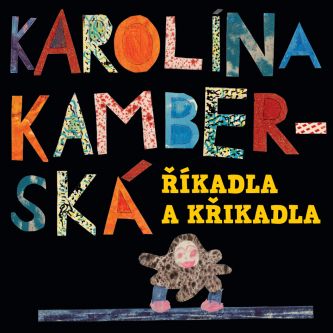 Říkadla a křikadla
ABOUT
The new album of songwriter Karolína Kamberská, the author of all songs and former half of the duo Sestry Steinovy, is aimed at different audience than last year's solo debut called Hořkosladce. Although, it's not so very different. "It's an album of songs for children but when I was writing them I thought of the parents as well. There are plenty of jokes intended only for them because I think they would have to listen to the album many times. Children do love repetitions ad nauseam." The album is called Říkadla a křikadla (Nursery Rhymes and Cries) and it is as uncombed as its recipients. Fifteen songs and one bonus contain mainly a large dose of humorous children's poetry which is emphasized by the harmony of three experienced musicians.

The new thing by Karolína Kamberská will satisfy with its playfulness both children and adults who are not afraid to unleash their imagination. The songwriter found her inspiration while watching her third child, son Matouš. She was impressed by the spontaneity which little kids today use to include modern elements into their fairy-tale fantasy world.  And so there are witches and cell phones, gnomes and washing machines, dogs and plane tickets in her songs. "Our generation is still kind of afraid whether we went to far already beyond the lost paradise of our ancestors. I enjoy watching how the new generation is not weighted down by this fear and still can live happy, contented life."

The children's songs by Karolína Kamberská haven't lost irony and provocation which are well known to the listeners of her songs for adults.  On the album you can find unruly wild songs as well as gentle lullaby or celebration of spring.

The concept of "family album" is recognizable also for the assembly of coworkers which Kamberská calls "family business". The cover is painted by the painter Tereza Říčanová in cooperation with her daughter Johanka Říčanová, graphic design is done by Petr Šmalec, the author of acclaimed books for children. The wild choires are sung by "girl punk choir" called Čilé papričky, which consists of Karolina's daughter Sára Kamberská together with Rozálie and Kateřina Ponocná – daughters of multi-instrumentalist Honza Ponocný in whose studio the album was recorded. Ponocný recorded majority of guitars and basses, the percussions were recorded by another longtime collaborator of Kamberská, David Landštof.


---
TRACKS
| | | | | | | |
| --- | --- | --- | --- | --- | --- | --- |
| | preview | name | time | download | price | free |
| | | 01 Strašidýlko plašidýlko | 01:29 | | € 0.41 | |
| | | 02 Jaro! | 02:14 | | € 0.41 | |
| | | 03 Babucha | 02:38 | | € 0.41 | |
| | | 04 Víla topmodelka | 01:58 | | € 0.41 | |
| | | 05 Tichošlápek | 00:58 | | € 0.41 | |
| | | 06 Nepolapitelná | 02:03 | | € 0.41 | |
| | | 07 Strašná píseň o myši | 02:09 | | € 0.41 | |
| | | 08 Kytarista | 01:57 | | € 0.41 | |
| | | 09 Až já budu velká | 01:43 | | € 0.41 | |
| | | 10 Otesánek | 02:37 | | € 0.41 | |
| | | 11 Utíká mi míč | 00:43 | | € 0.41 | |
| | | 12 Skřítek koupelníček | 01:26 | | € 0.41 | |
| | | 13 Rozcvička | 00:40 | | € 0.41 | |
| | | 14 Spinkej | 01:34 | | € 0.41 | |
| | | 15 V obilí | 01:52 | | € 0.41 | |
| | | 16 Naděje | 02:50 | | € 0.41 | |
---
YOU MIGHT BE ALSO INTERESTED IN
Dětské | Folk
© Indies Scope

IČ 105 34 181 / Dolní Loučky 191 / 594 55 Dolní Loučky u Brna