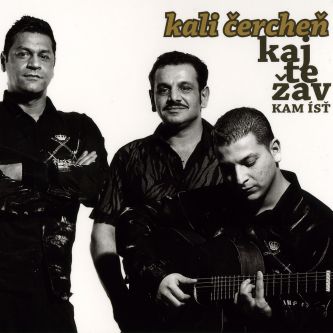 Kaj Te Žav - Kam ísť
ABOUT
It seems that the Slovak pop music has finally found the answer to the success of the refined Romani musicians from the Czech Republic who have recently risen to rule in various genres. Romano hip-hop by Gipsy.cz, jazz of Ida Kelarová, funky mood of Guločar or various fusion forms of the traditional Romani music with rock, pop and jazz (Triny, Terne Čhave etc.), all have found their die-hard audience both among the Romani as well as the "Gadjos". The Slovakian Romani, on the other hand, have so far presented in their recordings various degree of folklorism or even TV show (Kmeťovci etc.).
The appearance of the song Kaj te žav by Kali Čercheň band changes the situation dramatically. Milan Godla, Marián Balog and Milan's son Jaroslav perform traditional songs from different regions of the Eastern Europe as well as their own songs with mastery of professionals. And professionals they are, after all. Milan and Marián have been acting in the Romani theater Romathan in Košice since its foundation in 1992. Step by step they made themselves from actors, dancers and singers into choreographers, scriptwriters or directors of the only professional Romani theater company in the Central Europe. The talented Jaroslav has taken the same path. After finishing the arts academy he joined Romathan as well. The program of the theater includes not only dramas but often also musicals or music and dance shows, none of the members of the band has problems with singing. Each of the three guys can sing the solo and the chorus parts equally well. In some songs they are supported by Žaneta Štipáková, also a Romathan actress. Milan's deep voice accompanied by Jaroslav's acoustic guitar and the two- or three-voice parts of the other members of the band remind in some passages of the best pieces from the legendary soundtrack by Yevgeni Doga to the film Gypsies Are Found Near Heaven, which were by coincidence performed also by Romani actors – this time from a Moscow theater for a change.
It is utterly unbelievable that an album containing "only" human voices and the guitar sound so rich and vivid. Partly it is a matter of the choice of the repertoire which consists mostly of strong ballads. However, the main pillar of the success is the performers themselves with their ability to get out of themselves the maximum of emotions and skill in a very short time. Do not be fooled by radio hit charts – this is the real star of the Slovak (and Romani) pop music.


---
TRACKS
| | | | | |
| --- | --- | --- | --- | --- |
| | preview | name | time | free |
| | | 01 Kaj te žav | 03:49 | |
| | | 02 Mamo ma mer tu | 04:37 | |
| | | 03 Preko veš baro | 04:09 | |
| | | 04 Čercheň | 03:40 | |
| | | 05 Duj lavora | 03:15 | |
| | | 06 Rovav, rovav | 03:27 | |
| | | 07 O jasva | 03:23 | |
| | | 08 Ducho | 02:52 | |
| | | 09 Gili | 04:17 | |
| | | 10 Brička | 04:25 | |
---
YOU MIGHT BE ALSO INTERESTED IN
Acoustic | Ethno | Folk | Gipsy | Vocals | World music
© Indies Scope

IČ 105 34 181 / Dolní Loučky 191 / 594 55 Dolní Loučky u Brna