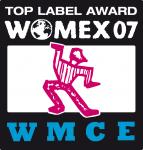 On 27 August we got a message that pleased us immensely. The subject was: 
WOMEX / World Music Chards Europe TOP LABEL AWARDS

Indies Records celebrated partial success in the field of European world music. The teams of organizers of world music Womex exhibition and World Music Charts European  prepare the chart of Top World Music Label every year. The chart is made according to results attained in the WMCE hit parade since August previous year till this July. During this period, 540 labels from all over the world got to the list. In total results, Indies Records (CZ) appeared on the 16th place. Two years ago, Indies Records was on 29th place of this chart.

Credits for this success belong to titles placed in the monthly TOP20 WMCE charts:
Gipsy.cz – Romano Hip Hop (Indies Scope)
Družina – Tragare (Indies Happy Trails)
Tomáš Kočko & Orchestr – Poplór (Indies Scope)
and
several others, who did not get into the TOP20, nevertheless responses from some radios were excellent. These are e.g. Tara Fuki – Auris či Maraca – The Body Is Too Slow For Me etc.


WOMEX / World Music Chards Europe TOP LABEL AWARDS :
1) Sterns
2) Cumbancha
3) Crammed

16) Indies Records


Full message from WOMEX:


ANNOUNCEMENT OF THE SECOND ANNUAL TOP WORLD MUSIC LABELS AWARD WINNERS presented by WOMEX and the World Music Charts Europe (WMCE)

"THE WOMMIES"

_______________________________________________________
We are pleased to announce THE TOP 3 WOMEX/WMCE LABELS, who will all be honoured at our Sunday Award ceremony at WOMEX Sevilla.

1) Stern's (UK)
Chart-topping CDs: Various Artists: Authenticité: The Syliphone Years;
Africando: Ketukuba; The Rail Band: Soundiata

2) Cumbancha (USA)
Chart-topping CDs: Andy Palacio and the Garifuna Collective:
Wátina (with Stonetree Records); The Idan Raichel Project; Habib Koité: Afriki

3) Crammed (Belgium)
Chart-topping CDs: Various Artists: Electric Gypsyland 2; Balkan Beat Box: Nu Med; Tartit: Abacabok

Last year we inaugurated the Top Label Award, honouring the top-20 best-selling music labels, with the top 3 each receiving an official framed plaque. Created as a joint project with the World Music Charts Europe, the selection is made using the charts of over 50 radio broadcasters from 25 countries. 540 different labels charted this year.

____________________________________________
Here are this year's REMAINING TOP-20 LABELS, each with their chart-topping CDs.

4) World Circuit (UK)
Ibrahim Ferrer: Mi Sueño; Ali Farka Toure: Savane; Various Artists: World Circuit Presents…

5) World Music Network / Riverboat Records (UK) Benjamin Escoriza: Alevanta! (with Chulos); Various Artists: The Rough Guide to West African Gold

6) Marabi (France)
Malouma: Nour; Various Artists: Musiques Métisses

7) Outhere (Germany)
Bassekou Kouyaté & Ngoni ba: Segu Blue; Various Artists: Urban Africa Club

8) Doublemoon (Turkey)
Mercan Dede: Breath;
Burhan Öcal & Trakya All Stars: Trakya Dance Party

9) Network Medien (Germany)
Various Artists: Golden Afrique, Vol. 3; Viorica & Ionitsa: Clejani Express

10) Galileo Music (Spain)
Aman Aman: Musica I Cants Sefardis D'Orient I Occident; Miquel Gil: En Concert

11) Asphalt Tango Records (Germany)
Fanfare Ciocarlia: Queens and Kings;
Toni Iordache: Sounds from a Bygone Age, Vol. 4

12) Independiente (UK)
Tinariwen: Aman Iman

13) Westpark (Germany)
Zulya and the Children of the Underground: 3 Night;
Bellowhead: Burlesque

14) Elkar (Spain)
Kepa Junkera: Hiri

15) Essay Recordings (UK)
Boom Pam: Boom Pam; Binder & Krieglstein: Alles Verloren

16) Indies Records (Czech Republic)
Gipsy.cz: Romano Hip Hop; Druzina: Tragare

17) Because (France)
Akli D.: Ma Yela; Akli D.: Kabyle Mental

18) Heaven & Earth (Germany)
Kristi Stassinopoulou: Taxidoscopio

19) Jaro (Germany)
Hazmat Modine: Bahamut; Moscow Art Trio: Instead of Making Children

20) Kirkelig Kulturverksted (Norway)
Rim Banna: Seasons of Violet; Sondre Bratland/Javed Bashir: Dialogue


______________________
TOP WORLD MUSIC MAJORS

1) EMI / Virgin 2) Universal 3) Sony BMG 4) Warner


__________________________________
TOP 15 WORLD MUSIC CDs OF THE YEAR

1) Andy Palacio and the Garifuna Collective: Wátina
(Cumbancha/Stonetree)

2) Tinariwen: Aman Iman (Independiente)

3) Kepa Junkera: Hiri (Elkar)

4) Bassekou Kouyaté & Ngoni ba: Segu Blue (Outhere)

5) Angelique Kidjo: Djin Djin (EMI)

6) Fanfara Ciocarlia: Queens and Kings (Asphalt Tango Records)

7) Kristi Stassinolpoulou: Taxidoscopio (Heaven & Earth)

8) Ibrahim Ferrer: Mi Sueño (World Circuit)

9) Various: Electric Gypsyland Vol. 2 (Crammed)

10) Akli D.: Ma Yela (Because)

11) Hazmat Modine: Bahamut (Jaro/Barbés)

12) Various Artists: Authenticité : The Syliphone Years (Sterns)

13) Ali Farka Touré: Savane (World Circuit)

14) Malouma: Nour (Marabi)

15) The Idan Raichel Project (Cumbancha)



Congratulations everyone! For the full list of WMCE charted releases from the top-20 companies, please check http://www.womex.com/realwomex/awards in early September.

_________
THE RULES: Since we are awarding chart success in creative production, we are counting the work of A&R teams from individual companies. Two or more labels in the same overall company under one direction are counted together. Different, autonomous A&R teams from different company locations are counted separately. In this way, Crammed Discs and their sub-label Ziriguiboom are counted as one. And the World Music Network (The Rough Guides) and Riverboat are counted as one, since all releases are created by the same team. But Virgin, Real World and EMI, though the same overall parent or marketing company, are counted separately, since they function as different companies with different A&R teams. Finally if a given CD is simultaneously released by two different labels, it is credited to the label that has it in the greater number of territories. The eligible period is
10/2006 through 9/2007.

Special thanks to Johannes Theurer, World Music Charts Europe and radiomultikulti, for compiling the list.


Best regards from your WOMEX team in Berlin

mailto:media@womex.com
http://www.womex.com

WOMEX Sevilla / 24 - 28 October 2007
Do Business, Catch Up, and Get Ahead!

::: WOMEX, Bergmannstr. 102, 10961 Berlin, Germany
::: Tel +49 (30) 318 614 15 ::: FAX +49 (30) 318 614 10
::: www.womex.com ::: www.piranha.de

Mark your calendars...
::: 24-28 Oct 07, WOMEX - the world music expo, Sevilla/Spain