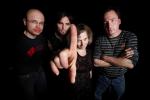 Domasa (Toflash)  is the seventh album by Traband that continues in a poetic atmosphere of previous album called Přítel člověka. There's an apparent big difference in the music though. Traband is now stepping on gas and after a quiet ride they will rock it up again. Harmonium, the essential instrument of previous album, now somewhat fades into the background and the sound of the band is mainly determined by the baritone guitar and tuba.  Currently, Traband has four members and the band returns back to its rock format without giving up their "friendly"attitude to the world. Here is interview with leader of Traband - Jarda Svoboda:

After a quieter period looks like Traband is stepping on gas again. What is the reason for the transformation of Traband? Is Traband becoming a rock band?

Traband has always been mainly a band focused on songs – rock or folk, we have never thought about it. We are not pursuing any musical labels; we are not trying to fit in any specific genre.  We are inspired by anything that surrounds us and what we are able to perceive. In the past, it was folk music, klezmer, Balkan music, but also country and Irish music. In the album Přítel člověka/Friend of Man you can hear the influence of Czech and Moravian cancional songs, hip hop etc.
So I don't think the changes are so radical, for me the song itself is the most important part. And if the new album is mainly rock and other seems calmer it's only a reflection of momentary mood in the band.

Since the last album the Traband crew has one more new member. Robert Škarda, the tuba and suzaphone player came back. Is tuba the essential instrument for Traband?


It turned out that what works on CD may not work in a concert. Some songs from the album Přítel člověka/Friend of Man didn't sound as well live as I wished. The bass was simply missing there, so we decided to put it back. We tried other instruments as well – bass, bass clarinet. But tuba was the winner in the end – and especially its owner. We can always count on Robert Škarda. On the new album his tuba and sousaphone get more space than before. It's not only an accompanying instrument anymore but also plays solos and small improvisations.

One of the most significant instruments of the previous album was harmonium, in the new album it recedes into the background. Did the harmonium sound pall on or it just doesn't fit in to the current concept?

Not at all, the harmonium is still present; I think that it appears in almost every new song. It just stopped functioning as a main instrument surrounded by others; it became part of the whole where tuba, trumpet, drums or guitar have the same position.  

The harmonium was also a dominant feature of Traband's concerts; what's going to happen now?

Tuning the harmonium at the concerts has always been a huge problem. In the past, we even refused to play at festivals because of this; our long sound check would spoil the momentum of the festival.                                   So we missed a lot of interesting events. Some organizers couldn't understand that, they thought there was something personal. But now we have discovered an amazing Nord Electro keyboard instrument in which we simply sampled our harmonium and now we carry it with us in its electronic version.

At various forums there were occasional complaints that the sound of the last album created by Ondřej Ježek is too "dirty", etc. But you are obviously happy with such sound and approach, given that Ondřej Ježek recorded and produced the album?


I don't find the sound dirty at all. It is simply Ondřej's specific approach with a great affection for the bass tones, low frequencies, extra musical sounds and noises. But that alone wouldn't be so special. The most important thing is that Ondřej becomes the part of the band while recording the album; he is able to empathize with the band and find the essential element in its music. If anyone here can really deserve the title "producer" it's him.


The lyrics of the new album are often poetic and since the album Hyjé there are significantly fewer lyrics commenting on contemporary society. You don't feel the urge to comment on today's society?

No. My today's society is trees, rocks and sky.

So it means out of town, far away from people? Is it the essential feeling that determines the album Domasa?

I think the basic feeling and theme of the album is everything that deeply affects humans: love, nature, pain, beauty, death, and disappointment….all this hits you "to the flesh/do masa". I see it rather positively; I'm not trying to escape from anything.

You've been touring for many years, now with a few longer breaks. What are the future plans of Traband?

We want to do concerts continuously, if possible, without those long breaks.  

During those Traband breaks you started doing scenic music. Can you tell us what was it all about?

It wasn't only during those breaks in Traband's touring. At the same time I write for film and theatre, but it's only for friends who ask me to. For example, with The Forman Brothers Theatre we did the Klapzuba's Eleven and Obludárium, for the director Honza Balej I'm writing music for an animated bedtime story.