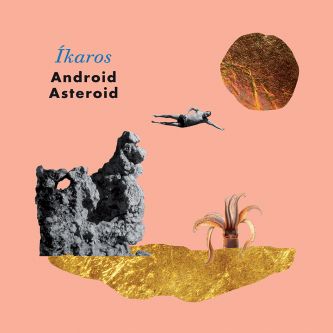 Íkaros
ABOUT
Buckele up! Íkaros is landing.

Íkaros - the ancient hero with heatproof wings and a jetpack. The fifth record of two bohemian producers sets a central-European metropolis on fire. Íkaros takes you all the way from Tatranian meadows, over West-African shores up to Orwell's Room 101.

You might have seen them recording live at Abbey Road Studios, you might have witnessed their live performance with Dj Vadim and Yarah Bravo, you might have never heard of their previous appearances with Arrested Development, Seal, Earth, Wind and Fire or spotted their MV on MTV back in the days.

These guys have seen just enough of the music industry to recognize the greatest importance of music. They have had their tracks going up and down the local radio charts and seen just enough fat ladies putting make up on their black-yellowish eye-bags.  At the age of a regular father of two with a decent job and a company car, they come up with a project that puts a torch up your payroll-licking ass….Yes.

Punk? Forget it. You have never heard this before. Eight got together for one studio session to record the least ambitious album in the universe.  It is Jazz, it is trip-hop, it is rap and it truly is Soul. Mastered by the Grammy Award winning sound engineer Tom Coyne, they deliver their best sound ever. They are Android Asteroid. They are Íkaros.


---
TRACKS
| | | | | | | |
| --- | --- | --- | --- | --- | --- | --- |
| | preview | name | time | download | price | free |
| | | 01 Great Adventure | 03:14 | | € 0.40 | |
| | | 02 Best Regards As Soon As Possible | 02:18 | | € 0.40 | |
| | | 03 God's On Tour | 03:43 | | € 0.40 | |
| | | 04 Good News | 02:03 | | € 0.40 | |
| | | 05 Illusionist | 03:36 | | € 0.40 | |
| | | 06 New Beginning | 03:07 | | € 0.40 | |
| | | 07 Ikaros | 02:26 | | € 0.40 | |
| | | 08 The Fall | 02:33 | | € 0.40 | |
| | | 09 Synchronize | 02:51 | | € 0.40 | |
| | | 10 Run | 06:15 | | € 0.40 | |
| | | 11 4D | 01:10 | | € 0.40 | |
| | | 12 Go | 06:43 | | € 0.40 | |
---
YOU MIGHT BE ALSO INTERESTED IN
Electronic
© Indies Scope

IČ 105 34 181 / Dolní Loučky 191 / 594 55 Dolní Loučky u Brna