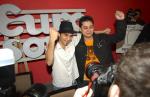 TV spectators decided which song will the renewed Gipsy.cz band go to Moscow with to participate in the Eurovision Song Contest 2009.

The spectators of the Czech TV had the posibility to vote for the song of the Gipsy.cz band that should represent the Czech Republic in the Eurovision Song Contest in Moscow this year.

Winner:

video
Aven Romale
second video Gipsy.cz - Do You Wanna
These video-clips will also introduce new faces in Gipsy.cz band project, a change in two positions as well as an expansion to final six band members having taken place.

However, the band leader and frontman remains naturally the same – the Gipsy rapper, musician, and singer Radoslav "Gipsy" Banga, as well as the violonist Vojta Lavička. The Gipsy.cz band being a dynamical project which does not intend to stay arrested, the two its founders have decided to add new young and promising musicians from among students and graduates from Ježek´s conservatoire for this occasion.

They are the following: Noemi Fialová, violin, Tibor Žida, guitar, Matěj Černý, bassguitar, Olivek Lipenský, percussion. These musicians of various musical interests enrich the band with a new sparkling and musical elements not yet used in the project, for instance a feminine vocal or live percussions. The Surmaj brothers, known from the actual band composition, are now directed to a bit different musical spheres of gipsy jazz and swing, however the band will continue to appear in its former composition on platforms and scenes at home as well as abroad.


Gipsy.cz
Reprezent
With its decision to introduce Gipsy.cz band to the European Song Contest, the Czech Televison has logically reflected the acceptance of the band´s newest album "Reprezent" abroad – beyond the frontiers of the Czech Republic. The European tour of the album started with the greatest Czech success achieved in the European hit-parade World Music Charts Europe (WMCE). The October WMCE scale marks the "Reprezent" on the bronze position and the November one mentiones the "Reprezent" as numer 5.

In the WMCE wholeyear summary, it occupied the total 21st position among 916 albums entered for competion in 2008. Foreign reviews of Gipsy.cz band are very positive, repeatedly using the term: "Highly recommended!" A prestige and probably best worldwide periodical covering world music – the British magazine "SONGLINES" - has ranged the "Reprezent" album among "Top of the World" albums in its present issue, having placed its composition "Benga Beating" on the same position. This CD has achieved the highest rank of 5 stars from 5 ones possible.

The continuing success of this band show and open the way towards the world musical scene also for other Czech bands and musicians.