New distribution releases on our website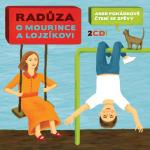 During summer we worked on improving our website so we are happy to announce this:

We have just started to distribute also CD and MP3 published by our associated labels such as Indies MG and Indies Happy Trails that were established after Indies Records break up. The first thing we can offer you is a new fairy tale double CD O Mourince a Lojzikovi by well known singer Raduza. On the main website page you can find completely new window focused only on this distributed items  where you can choose from about 30 different CD now, such as Raduza, Zuzana Navarova, Ivan Hlas or Glen Hansard, The Frames etc. As the choice is widening every day  soon there should be complete production of these two labels.  Sometimes you may not find all the details you would like to but we are trying hard to put on our website all information we get from the labels - WE ARE ONLY DISTRIBUTOR. But still you can always find much more information and also better prices with all our Indies Scope titles. 

We have also improved service for digital sales. You will not have to download every single song any more. Ordered songs or complete CD will be put in a zip file including CD cover so you will download only one file no matter how many songs from even different CD you would like to buy.

More news
© Indies Scope

IČ 105 34 181 / Dolní Loučky 191 / 594 55 Dolní Loučky u Brna