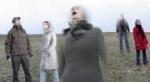 1.    BSD was labeled as young, rapacious band, three fifths of which are girls. What is true of this now after 10 years and at the time of release of the third album?
Well, the three fifths... made up of girls, this may not be changed so easily.  Well and if you called the band young at the age of 15, then after 10 years we are still young, aren't we? Hmmm.. but inasmuch as we are young, our band is actually quite old.

2.    The band always made an impression of natural, shy performance, this is also something that did not change? What is "Budoár staré dámy" like on the stage now?
We follow the motto: "Slight stress enhances the performance." Even though we try to practice the songs until they are absolutely perfect, there are always unexpected situations during concerts that keep us agreeably excited and that we are forced to deal with somehow immediately. Therefore, we do not try to hide the mistakes, on the contrary, we point out to the ones which the audience might miss. I can only say that I always look forward to every concert and at the same time I am a bit afraid of it. And I like it this way.

3.    Again, the new album came up in stages; how many stages were there this time?
The songs come up continuously, we record them as soon as we can play six songs - in different speed, in full light, in lamp light or in the dark. We recorded them and mixed them with our favorite Broněk Šmíd again in Indies studio in fall 2006 and at the beginning of 2008.

4.    The new album has much more refined arrange, demanding pieces and allegorical lyrics. Are the times of composing two-chord pieces like "Lopata, betón" gone for good?
Maybe. Well, we would be tired of playing such two-chord pieces now!  It is as if they gave you a little digger toy and said: play with it all day. It is important that we like to play and invent... and only then we think about whether someone likes to listen to it. Of course we are happy that people like our songs and the audience sings and dances. However, I draw on the fact that the concert which we would not be happy about could neither make others happy. Therefore we mix playlists from old and new pieces, as we please.

5.    In addition to own lyrics, in the case of the previous albums, the band always set great Czech poets to music. How about the new CD?

There is only one piece of the new album called "Potom", the lyrics of which was written by Jan Skácel. Other lyrics are of my own. Somehow the life inspired me so much so that it could not but come up.

6.    The new album is more rounded than the previous two recordings, is there anything else in which it differs from them?
Oh, how is it different? It has a different name and different cover than the previous two . In particular, the new album "Dobrou noc, světlo" is more based on life, it is more personal and perhaps a bit sadder.

7.     What was the impact of the arrival of a new member and especially of the instruments (keyboard) on the final shape of the album?
Filip plays almost in all of the songs! I think it is beneficial. With the keyboard, you may create lots of sounds and thus support the atmosphere of the song. After the leave of guitar player Ondra Klíč, we needed someone who does not miss the rhythm, who tunes and who has good ideas. Besides Ondra, as I said, Jirka Raiterman from Lajky plays the guitar as a guest and Tomáš Doležal from Furré plays the wind instruments, both of whom also appear in the album.


8.    Album recording is a creative process, who holds the floor? Haven't you thought about a producer?
The majority or me. Of course, my partners are at considerable liberty: I say: "go ahead and record it and then we will see, perhaps we will find a place for it in the mix." We haven't thought about a producer, we always bring so much food to the studio that no one else can fit in. Actually, Broněk Šmíd plays the part of the producer in the studio. I trust him. When he says "it sounds strange", we think about how to improve it and fiddle with it until we "can hear anything at all" and agree that it is good.


9.      You always prepared one or two video clips for the previous albums, this time you entrusted it to someone else. You don't like to shoot video clips any more?
You bet that I'd like to and I will... but I need a computer with a graphic card which does not go black any more! I find it interesting to have the clip made by someone else. Someone else "sees our music" and interprets the lyrics in a different way than me, which is inspiring. I want to give a chance to anyone who wants to do something. "Hluboko v moři" video clip was directed and shot by my friend Beata Spáčilová with Pavel Badura, it was implemented at the Faculty of Fine Arts and it was extremely refreshing for all of us. Well, have a look.


10.     The "Brno alternative" category is one of the most frequent labels for your style of playing, how does BSD feel it?
Well, we live in Brno, we play songs and, compared to professional bands, perform somewhat alternatively. I am not offended by this category. It includes groups which are close to me.