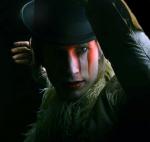 Your new album Brant Rock is very different from the two preceding ones. What brought this "maturity" in the musical style of the band?
"After publishing of the Collage album and related concert tour, we wanted to take a little rest and reflect on the purpose of our music and what we wanted to say in the future. This period of time got as far as creative overpressure. I started to compose in my home studio and it was the same with Ondra, our bass guitarist. Our ideas were identical and everything started to be much clearer. Then all we had to say was: Let's do it! That's it! And the album was born…"
What are responses of fans after hearing the new single Cream? Did they recognize 100 °C?
"From the responses it is clear that everyone is surprised by the transition we have made during the past two years. I also noticed responses saying that people did not recognize us at first listening.  It is pleasant, but we don't want to say we don't acknowledge our previous work. However, there is a certain charm involved…"
There are other authors of lyrics of this new album besides you. Why did you decide to entrust someone else with the task?
"I addressed a few friends and lyricists, because they are more experienced in writing lyrics than I am. I wanted the texts to be comprehensible for native speakers and to be of high quality. I must thank Honza Halama for excellent cooperation and brainstorming when creating the texts. We really clicked. He wrote beautiful poems with common topics. But also screenwriter Petr Kolečko and Turner Harrison wrote a beautiful text each. However, my effusions are present in the album as well…"
While there were no guest musicians in the second album, in Brant Rock, there are three guests. Did you just want to season the album a little bit, or do you envisage longer cooperation?  
"Any outside influence means variation for our production. Abroad, this is a completely common trend to present a large number of interpreters, mostly singers in an album. Thus, we chose a renowned American musician Turner Harrison, who wrote lyrics and sang the song Elvis together with me. It is a story of a homeless man who lives close to Tuner's home. We cooperated with the singer Mára Hupač from My Music band in the song Single Boy. The charming vocalist Sabina Feldmanová, whom you may hear in the vocal quartet G*apeels, sang a duet with me in the tender and emphatic song Am I Really.
An experienced producer Ecson Waldes, who was awarded the Anděl statue in 2003, has his share in the sound of Brant Rock. Are his studio abilities and his taste apparent in the album?
"That's undoubtedly true. We composed all the songs together with Ondra, our bass guitar player. However, then I tried to capture them from the producer's point of view in my studio. I tried to create sound for them, which would be the holder of direction, in which we intend to continue. It was in this phase that Ecson Waldes got the material. It was his producer's drive that provided the resulting sound and modern face to the album. I enjoyed his attitude to production. I must tell you that we were working with him on the album for five long months!"
The enchanted band in the videoclip for the composition "Cream" gives a somewhat magic impression. Is your concert performance going to correspond with the clip? Will you use costumes and masks?
"We definitely don't want to let this stylization die. I think we have always been able to surprise with concert appearance, graphics and audiovisual aspect. We wish to develop this in the future, too."
The limited edition of your album will contain two CDs. One with Brant Rock and the other one will be remixed with interesting producers from Czechia and from other countries. How was the idea of a remixed album born?
"There hadn't been anything like the release of remixes in Czechia. The idea came from our friend and PR manager Vašek "Win.cent" Pavlečka. We had long been thinking over how to release it and in the end we decided to publish the remixes and another CD accompanying the new album Brant Rock. Isn't it a good bonus? :-)"
100 °C is the boiling point. A physical concept. Everyone who has been at your concert at least once knows that the title is not a coincidence. Do you think you managed to imprint the concert energy into the Brant Rock album in the studio?
"In my opinion, due to the fact that this is a studio album we tried to imprint this feeling into each and every track and place of the album. Thanks to Ecson Waldes the recording has hard percussions, strong basses and great sound :o) This is what matters to us at the moment. We look forward to concerts, because this form has shifted forwards both in the technique and the sound."