Golden Album - Romano Hip Hop by Gipsy.cz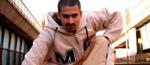 Romano Hip Hop CD has become Golden Album. Amount of sold pieces has already crossed the number defined for this award which will be handed over to Gipsy.cz band very soon.
This year has started very succesfuly for the band which is also very busy right now. First Gipsy.cz was awarded the Filter magazine award for the Best Live Performer because last year it was the first Czech band ever performing at Glastonbury festival and touring South Korea. Then the band participated in Eurosong competition with song called Benga Beating.
The band didn´t win but at least has time to work on its new CD which is being recorded right now and will be published in May 2008.
More news
© Indies Scope

IČ 105 34 181 / Dolní Loučky 191 / 594 55 Dolní Loučky u Brna