Czech Hip Hop Star Gipsy.cz recieves MTV support ahead of live slots at this years Pulse Festival, Glastonbury and Besti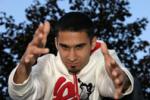 Building on the success of his London appearances last year and an exploding European profile, Gipsy.cz's new single "Romano Hip Hop" has made the MTV World Chart Express Top 10. The show will premiere on MTV European on Saturday 2nd June at 9.00CET and is repeated on Sunday at 1900CET and again on Friday at 1700CET.
Gipsy.cz's live campaign has kicked off to a great start with sensational performance at Holland's Dunya Festival in Rotterdam with his trademark mix of Gipsy sounds, hip hop beats and rapping in Romany, Czech and English. You can catch Gipsy.cz's legendary live show for free at this years Pulse festival on London's South Bank on June 16th where he is playing the CM/Western Union stage at 4pm. Also this year Gipsy.cz is featuring at this years Glastonbury, playing the Pussy Parlure stage in the Dance village on the 24th at 10.30pm and also Bestival on Sunday the 9th September.
Gipsy.cz is supported in the UK by CM's innovative ArtParty project which promotes cultural exchange and is funded by the Arts Council.
More news
© Indies Scope

IČ 105 34 181 / Dolní Loučky 191 / 594 55 Dolní Loučky u Brna