New music video by Tomáš Kočko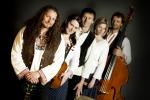 New music video on track Ověnžok by  Tomáš Kočko & Orchestru directed Petr Hrubeš. Tomáš Kočko recorded Ověnžok on last new release Godula.

The new studio album by Tomáš Kočko & Orchestra is called Godula and, if not counting the "seasonal" CD called Koleda, this is a new studio album after long five years. During those five years Tomáš Kočko helped to create three ethno-doom metal albums in the role of producer and so it is no wonder that Godula offers wide range of genres from folk to world music and folk-metal, all with an emphasis on traditional Moravian music. Balancing this genre jitter is a specialty of Tomáš Kočko. And in the end, there is always good music. Regardless of any pigeon-hole. 
 
Tomáš Kočko & Orchestr - Ověnžok (videoklip)

Screenplay & direction: Petr Hrubeš
cutting: Albert Čuba
Studio IZMAX
 
Recorded in Ostrava - Hladnov, in hotel Metropol close to FC Baník - BAZALY.
More news
© Indies Scope

IČ 105 34 181 / Dolní Loučky 191 / 594 55 Dolní Loučky u Brna