Do you want to appear on a Yellow Sisters' new album? Make your own remix.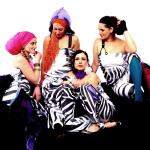 If you want to apper on the Yellow Sisters' new album, you can make a remix of any song from the first or the second album.

Yellow Sisters released their second album called Tubab Woman in june 2010, which was accompanied by a videoclip for the title song directed by Vilem Kabzan and Filip Racek (http://www.youtube.com/watch?v=JnE9CfgguX4).

The group is working on a remix album at the moment. Some remixes are already prepared - for example the remix of a song called Vitr, which was made by a producer Ales Hyvnar, others are waiting to be created. Anybody who would like to participate can contact the Yellow Sisters (yellowsisters@gmail.com) and create their own versions till the end of the april 2011.
More news
© Indies Scope

IČ 105 34 181 / Dolní Loučky 191 / 594 55 Dolní Loučky u Brna