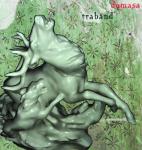 New album by Traband is called Domasa/Toflash. It's already the seventh studio album and follows the poetic atmosphere of previous album called Přítel člověka/Friend of Man; musically Traband steps on the gas and after a quiet ride they roll again in rock style. Harmonium, the essential instrument of the previous album, kind of fades in the background and the sound of the band is determined mainly by baritone guitar and tuba. Currently Traband has four members and they return back to their rock image without giving up their "friendly"attitude to the world.  

On Monday April 19th the CD will be released in two formats, just like the album Přítel člověka/Friend of Man. There will be a cheaper plastic edition and an exclusive booklet. Before the CD comes out first there will be a digital version of the album which will appear in e-shops on Tuesday March 30th. On the same day the new animated video clip for the song "Indians in Town"will debuts. It's created by Marek Rubec and Aleš Výmola.

The release party will take place on April 22nd in Fléda club and on April 29th in Futurum club, Prague.
Screeenshots from musicvideo "Indiani ve městě":