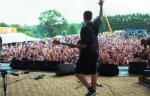 1.    "Dream" is new studio album after four years. Has it gone fast? What has -123min. done in between?
We kept playing in Czech and abroad, half way through we had already one unfinished album but because of the new drummer we decided to record new album to capture the current sound.

2.    Where did the -123min. style move compared to the previous more rock "Mom"? How much is your solo appearance reflected in current band style?

I think that the album and playing as well is more colorful, I feel that we are playing with the music and the music is playing with us like never before. And my solo career is reflected in The Minutes with the song "Sol", which I play acoustically and I would never believe that we would play it in this fully electric way.

3.    Previous albums were recorded in well known studios such as Sono, Studio V in Zlín etc. This time you have chosen less known studio. Why?
It wasn't exactly well known studio, but it was perfectly equipped Studio Ariston. There we recorded the basic stuff and then we finished the rest of it in studio of Matouš Godík, who we chose specifically for his abilities, qualities and ears.


4.    Compared to previous album there was again a new drummer when you started to play with Miloš Dvořáček in April 2008. Do you remember how many drummers have already played with you and Frederik?
Before Miloš came, there were four in The Minutes. I take it as a completely natural process. And I love the way the band plays now!

5.    Besides the debut album "Shooba Dooba", all your studio albums had one word name. And it's still like that now.  Is that a tradition now? Why "Dream"?
I guess it is a tradition now, we like it that way. One word, keep it simple. "Dream", because of its abstract nature, resembles the music and our improvisation during our concerts, it almost creates the symbol of the atmosphere in our band.

6.    Another "tradition" was that The Minutes have never overdone it with guests while recording albums. How was it this time?
There was actually only Michal Žáček playing the flutes as a guest; it's maybe because we alone play more than enough.

7.    You are preparing a big concert in Smetana Hall with Prague Chamber Philharmonics. How did that happen?
It was because the people from Prague Chamber Philharmonics were interested in this project, mainly Lukáš Verner, who is in charge of its difficult production. We have been working on this very, very hard for a half year now; it sounds perfect in our heads. Martin Kumžák is the one preparing the arrangements, so hopefully it's going to turn out well.