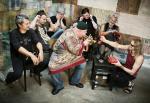 Czech band Čankišou released its fifth CD called Faÿt in September by Indies Scope and now it´s No. 17 in the World music chart Europe. As Czech bands appear in this chart very rarely it is a great succes of Czech music.

Čankišou is one of the top world music bands in the Czech republic which has already made audience in 14 countries including Pakistan and Réunion island dance. The band plays an original ethnic fusion full of wild rhythms and spiced with rock roots based on a legend of one legged Čanki nation.


The previous CD Lé la (2008 by Indies Scope) was reviewed in Songlines by Lemez Lovas and got four stars there. According to the Czech world music journalist Jiří Moravčík Lé La was the best Czech world music CD in 2008. The band was also nominated for Czech version of Grammy called Anděl 2008 in world music category. Last summer Čankišou performed at world music stage at Sziget 2010 festival. The band made fusion with Sain Zahoor who got BBC World music 2006 award and a sufi singer Surriya Khanam in Pakistan and with Rajery at Folk holidays festival in the Czech republic.
Interview with Čankišou:

1. Since the release of the album Lé la four years have passed. What's new in Čankišou  band?

David Sysyn Synák: "Well, sometimes it could be exhausting how nothing has changed. But compared with the gaps between other albums it is surprising how little we fought and how energetic we were while creating new songs. It was like we began to appreciate one another more….but that's bullshit."
Karel Heřman:  "Couple of kids, one marriage, many concerts and mostly the energy to make new album.."

2. After more than thirteen years the group has still the seven members. That is not very common. How did you make it? Is it still possible to surprise each other in the band?

Karel Heřman: "That's part of the statutes of the band (unwritten). Rather than kick somebody out, we prefer to fall apart. If anybody wants to go, we can't do anything. His bad. And there are still many surprises. The last one was the new album. We are really happy about it!"
David Sysyn Synák: "Every time when the fate forces us to play a concert without anyone of us, we can feel how fragile is the shell that holds it all together. How we complete each other and need each other in the musical sense. Everyone wanted to wrap it up at some point, but then they realized they wouldn't be happy. In this band we all are here by accident. The fact that everything is working out is something that is still surprising for us."

3. Given that composing music is a collective matter for Čankišou, is it difficult after so many years to inspire each other? Or is it the other way around; is everything fast thanks to the fact that you have spent so much time together?

Karel Heřman: "Of course it can't be fast. We created the album for more than a year. But we still have inspiration. There are advantages and disadvantages in being each so different."
David Sysyn Synák: "We work very ecologically; we don't have any music waste. It's only the matter of forcing ourselves into it. The release date of the album is really the inspiration but that's what everybody who creates something says. We composed much more in this album. We worked again and again on the same motives. For example an original reggae motif turned into hardcore and vice versa."
4. As faithful prophets of Čanki people you decided to publish another testimony of the nation of one-legged. Is there a unifying theme in the album?

Karel Heřman: There is a unifying theme this time. Half-world and looseness of times which we have almost forgotten."
David Sysyn Synák:  "Čanki were real hedonists. They traveled with a circus spreading coffee among the nations, they invented absinth, improved water pipe for opium smoking and may be for their right to pleasure they were able to fight with crutches in their hands. Well, if so, we don't know, but that's what the album Faÿt is about."

5. Is the music on the album Faÿt a reminder of your rock past? What most influenced the band this time?

David Sysyn Synák:  "Either rock or alternative, those are our roots and it's impossible to hide it forever. But I think it's like that only after listening to it once. We set up a rehearsal to make new album but we forgot the keys to our studio.  Zdeněk had only keys to the studio Progres. And there were all those boosters, powerful combos and other sets of drums. And the following day we were supposed to record…well, what could we do….Well, of course, I'm kidding a bit, but that was the atmosphere in which we started."
Karel Heřman: "It wasn't a reminder, no. But we all have it under our skin and now we just let it out."

6. Are the Čanki people able to be as dark as you portray them on the album?

David Sysyn Synák:  "We actually don't even think there is a dark song on the album. But each nation has their darker moments and it makes no sense to be quiet about it. There are those moments here, yes, but we hope it is somehow balanced. We recorded this album joyfully so hopefully after listening to it more times, it will reach the ears."