The breaking through CD!!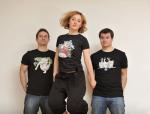 Right at the end of the year, on 31.12. at 2PM a debut CD Jananas is released by Indies Scope. The band is one the most outstanding promis at the Czech folk scene. Their CD which was made in cooperation with well known producer Martin Ledvina offers powerful melodies, unusual arrangements and original lyrics in Czech. Jananas proves that folk music can be contemporary and up-to-date and without clichés in lyrics.

 Check our website where you will learn more soon!

The releasing party takes place on 8.2. in Malostranská beseda in Prague.
More news
© Indies Scope

IČ 105 34 181 / Dolní Loučky 191 / 594 55 Dolní Loučky u Brna