Excellent music video from NIL.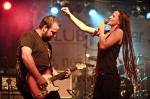 The band NIL have their very first music video made by director Pavel Sadilek. The video is of the song called Life Ladder from the 2nd album Dirty.
The band started the video while recording the album, shooting the first scenes in the National Park of The Netherlands near Amsterdam and Haag,
finishing it in the sv. Máří Magdaleny church in Liberec.
indies.eu: http://www.indies.eu/en/klipy/458/nil-life-ladder/
youtube: http://www.youtube.com/watch?v=DKeMOS8OiFE

Mixing shots of winter beaches and a dark temple interior, Pavel achieved an expressive and slightly dark atmosphere, fully complementing Nil's present songwiting.
Using modern wizardry he finalised the video into a very attractive and high quality form.

The talented rock group of four, Nil, with their excellent lead singer Hanka Kosnovska recorded their second album under the control of producer Ecson Waldes at Studio Biotech. Melodic rock songs sung in English are carried well by the professionally coordinated band and the bewitching vocal of one of the best Czech rock singers in CZ
Track: Life Ladder
Artist: Nil
Album: Dirty
Music: NIL
Lyrics: Hanka Kosnovská
Director: Pavel Sadílek


More news
© Indies Scope

IČ 105 34 181 / Dolní Loučky 191 / 594 55 Dolní Loučky u Brna