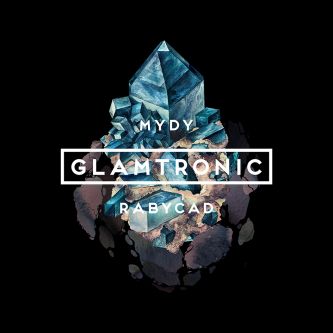 Glamtronic
ABOUT
Way beyond electro-swing,  brilliantly engaging
That's the new album of a band that is able to connect many generations with their vivacity, enthusiasm and joyful music.
 
Young band Mydy Rabycad demonstrates on their second album Glamtronic, gleaming with energy, regular guests both at big festivals and club scene in our country as well as abroad. The core quartet have been playing together since they were seventeen – at that time they were a new band with jazz background that surfed onto the electro-swing wave. Nothing lasts forever, not even surfing on electro-swing. So now, after three years, Mydy Rabycad are evolving their style daringly and confidently and head to open waters, but the band still keeps the arsenal of sounds and vibe which attracted listeners of all generations from the beginning with energy, joy and charm.

This album, with their laid-back style and spontaneity supported by their perfectionism, Mydy Rabycad present uncompromising beats perfectly interconnected with jazzy tunes.
Sex appeal and spontaneity of redhead diva Žofie Dařbujánová dominates not only on concert stages but her voice can also be captivating with the same intensity on the album Glamtronic. "Electro-swing is our roots, but we have gone past its limits. That's why the album's name is Glamtronic. Now it's impossible to pigeonhole us, so we came up with a new word 'glamtronic' as an expression for our own style and in the end, we called the entire album Glamtronic."

The album Glamtronic recorded in the well-known studios Svárov and Barrandov Sound, the main producer being Tomáš Konůpka, assisted by Yarda Helešic, Risto Sokolovski or Lukáš Martinek who took care of the final mixing. Mastering was carried out by the experienced Ecson Waldez from Biotech Studio. As a guest on the album, there is one of the finest double-bass players from the Czech republic Josef Fečo and string and a fine brass section.

Mydy Rabycad on this their second album Glamtronic set out on the road where they are accompanied by their fans' and listeners' good vibes and fanship not only in our country but also Germany, Switzerland, Poland and France. This year they will go through baptism of fire also in Great Britain and at the enormous Sziget festival in Hungary.


---
TRACKS
| | | | | | | |
| --- | --- | --- | --- | --- | --- | --- |
| | preview | name | time | download | price | free |
| | | 01 Dont Play This Song | 03:58 | | € 0.41 | |
| | | 02 Good Times | 03:46 | | € 0.41 | |
| | | 03 Darling | 03:03 | | € 0.41 | |
| | | 04 Be True | 04:20 | | € 0.41 | |
| | | 05 Ready To Stay | 04:14 | | € 0.41 | |
| | | 06 I Got A Man | 03:17 | | € 0.41 | |
| | | 07 Until The Morning | 03:45 | | € 0.41 | |
| | | 08 Trance | 02:48 | | € 0.41 | |
| | | 09 Belly Button Nation | 03:33 | | € 0.41 | |
| | | 10 Dance Live Scream Shout | 03:41 | | € 0.41 | |
| | | 11 Dreamland Of Mine | 04:28 | | € 0.41 | |
---
YOU MIGHT BE ALSO INTERESTED IN
Electronic
© Indies Scope

IČ 105 34 181 / Dolní Loučky 191 / 594 55 Dolní Loučky u Brna