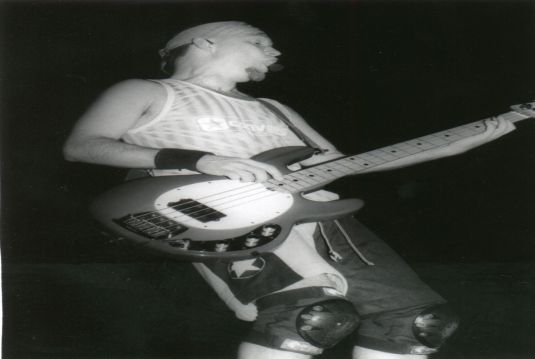 Jolly Joker
Since: 1991

Jolly Joker and The Plastic Beatles of The Universe band was founded in 1991. One of its founding members Petr Kumandžas is also a former member (from 1988) of one of the most significant cult band of 70s and 80s – The Plastic People of The Universe.

New formation having been injected with fresh blood appeared under the name "Půlnoc" (Midnight) which make them possible to realize three world concert tours (illegally) especially in US and West Europe and to produce CD City of Hystery (BMG Arista Records) there.

In the late 80s the Band consisting of Petr Kumandžas (vocals, bass guitar), Jiří Egert (solo guitar), Ivan Pelíšek (drums) performed under the name "Egypt" and produced the same-name emo-psychedelic vinyl.

"Egypt" was followed by Jolly Joker and The Plastic Beatles of Universe band which with a roaring success wins its fans not only at home but even in Western Europe.

The first debut album Heavy Funky Boxing 'roll (1992) is a revolutionary work in its style, which influenced the generation of the incoming music scene after the Communist regime's fall. Since 1992 it has become a fixed star both of club and festival stages.
In 1995 the Band is coming with CD Pro-Tlak (Pro - Pressure) – more hardcore version of its first CD H.F.B.R.

From 1998 to 2003 the Band was active in concerting but continued to face up with the various personnel changes. It has got back to the Underground where it works on the concept of new CD Welcome To Da Eastblock.
© Indies Scope

IČ 105 34 181 / Dolní Loučky 191 / 594 55 Dolní Loučky u Brna