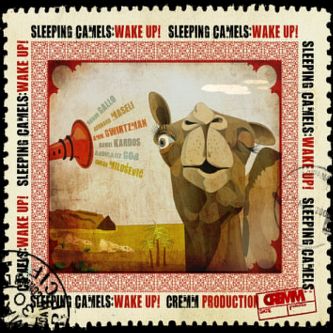 Wake Up!
ABOUT
Creative meeting of six outstanding musicians whose experiences roots back to different cultures and styles. The possibility to work together opened their horizons and they created a unique sound marked by west African soul and grooves, the rhythm of the Balkan, the songs of the Middle East and jazz.

The members of the group first met in a festival in 2009 in order to form a band and play together on a small tour in east Europe. Following the success of this creation program, the musicians - who all came from different countries - decided to continue their energetic cooperation. Just few months after they were invited by a Hungarian record label to record their first album together.
The richness of their common music roots back to their different countries they came from and the musical influence they had in their vast experience in different fields of music, such as the modern and traditional African music, the rhythm of the Balkan, the jazz and the music of the Middle East. On the way to find the common ground in their new arrangement and composition they found new harmonies and the cultural borders suddenly disappeared to give the place to World Music.
The members who took part in this creative meeting already reached high reputation in their country and abroad: Bernard Maseli, the European wide well known vibraphonist collaborated with dozens of the most well know European and American jazz musicians and his music can be reached in more than 40 albums, Manou Gallo, who was born on the Ivory Coast and before her solo career became famous as the bassist of Zap Mama and who was recently nominated for the MTV Mama Award as the "Best Performing Artist of Ivory Coast", Amir Gwirtzman toured more than 20 years as the member of ESTA and performed in various prestigious festival throughout Europe and USA, Daniel Kardos as a soloist and band leader one of the most well known Hungarian jazz guitarist, inspired by the klezmer and the sounds of the Balkans, Abdul Azi Gob native from the Guadeloupe specialized Western African percussions, the Mandingo instruments and Goran Milosevic who beside of his wn project regularly play with the singer Aleksandra Kovaè, who recently won MTV Adria Top artist award.


---
TRACKS
| | | | | |
| --- | --- | --- | --- | --- |
| | preview | name | time | free |
| | | 01 Amagnany | 05:55 | |
| | | 02 Amour | 07:12 | |
| | | 03 Multikulti | 03:35 | |
| | | 04 Sleeping Camel | 09:22 | |
| | | 05 Persian Reggae | 05:52 | |
| | | 06 Merci Bemol | 05:07 | |
| | | 07 Chanter l'amour | 05:04 | |
| | | 08 Nostalgia | 08:15 | |
---
YOU MIGHT BE ALSO INTERESTED IN
Ethno | Jazz | World music
© Indies Scope

IČ 105 34 181 / Dolní Loučky 191 / 594 55 Dolní Loučky u Brna