Release is for limited period available for FREE!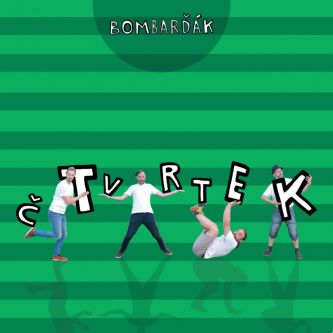 Čtvrtek
ABOUT
The band Bombarďák has been playing for children since 2012 and their new album is called Čtvrtek (i.e. Thursday). The record contains the right bomber mix of puns, covered with a bunch of chants and rhythms, spiced up with wildness and joy. Blue, yellow and red are the colors of the previous three titles, and the fourth is green. Twenty short hits will offer punk, pop, country, rock, folk, blues, almost-folk and pseudo-Middle Ages.

The band Bombarďák adheres to a well-proven recipe - Czech juggles and jokes are the basis of the light songs that pass through various genres as easily as the laxative through the digestive tract. The singer and director, Jiří Jelínek talks about how it works in the band: "I do the words in the band, Michal is a master through the striking right hand, Filip pumps up with his melodious heart, Matěj brilliantly controls his barefeet on the rails and Michal Špirko delivered again the regular lungs. That's the anatomy of Bombarďák. Of course, there is a woman in the main role, our guest on the album, Johana Vavřínová." This connection worked great on the previous album 3FO3 and the current record Čtvrtek just confirms it.

Each song has its place and its pedigree. Jiří Jelínek admits that children (and not only those from the Bombarďák family) are often the inspiration: "For example, the opening song EMILCE is dedicated to a passerby Emilka when she told me on the street one day - 'I was thinking if you were really Bombarďák, but you don't slouch enough.' TAMBURÍNA was created in a hotel on a double bed where they almost didn't let us in because we had straw on our shoes when we returned from the festival. STELLA was created in Roškopov on the hill, HRÁŠEK before the performance at the Minor Theater and ŠTĚSTÍ during the performance there." But there is one song quite different from any other songs Bombarďák has ever composed. And it is clear already from the name - NEVESELÁ (i.e. UNHAPPY). It discusses that there is nothing wrong with being sad and that there is no need to fight it.

Although Čtvrtek is green, you will not see the band in any other way than in white T-shirts. "White won't seep! We used to say that with each CD we would change the colors of the clothes according to the cover, but at that frequency of performing we would be white again and totally washed out at the end of the summer! But you never wash out withe colour" Come and see for yourself at their concerts.



---
TRACKS
| | | | | | | |
| --- | --- | --- | --- | --- | --- | --- |
| | preview | name | time | download | price | free |
| | | 01 Emilce | 02:09 | | $ 0.40 | |
| | | 02 Schovávaná | 01:40 | | $ 0.40 | |
| | | 03 Johnny | 01:56 | | $ 0.40 | |
| | | 04 Obě | 01:38 | | $ 0.40 | |
| | | 05 Skoro | 00:53 | | $ 0.40 | |
| | | 06 Teta | 02:02 | | $ 0.40 | |
| | | 07 Hrášek | 01:48 | | $ 0.40 | |
| | | 08 Líbal | 01:54 | | $ 0.40 | |
| | | 09 Dárek | 02:09 | | $ 0.40 | |
| | | 10 Neveselá | 02:14 | | $ 0.40 | |
| | | 11 Krleš | 01:43 | | $ 0.40 | |
| | | 12 Tamburína | 01:20 | | $ 0.40 | |
| | | 13 Stella | 01:29 | | $ 0.40 | |
| | | 14 Hokaido | 01:55 | | $ 0.40 | |
| | | 15 Sherlock | 01:18 | | $ 0.40 | |
| | | 16 Hloupá | 01:52 | | $ 0.40 | |
| | | 17 Náměstí | 02:07 | | $ 0.40 | |
| | | 18 Štěstí | 02:32 | | $ 0.40 | |
| | | 19 Táborová | 01:54 | | $ 0.40 | |
| | | 20 Tenis | 02:07 | | $ 0.40 | |
---
YOU MIGHT BE ALSO INTERESTED IN
Dětské
© Indies Scope

IČ 105 34 181 / Dolní Loučky 191 / 594 55 Dolní Loučky u Brna