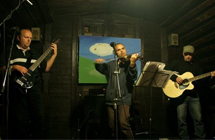 Hasta Luego
During 1994-1999 Lada Buchta performed meditative music with a 4-track cassette recorder and pre-recorded tapes at his casual concerts. At home he tried experiments playing the prepared guitar laid on a table with a bow, potato scraper (a holder spread with colophony) and other effects.
The results were sound spaces with ambient temper. Time by time he played such a piece at a concert but he mostly met misunderstanding of the audience that could not cope with a music without a constant rythm.
In 1999 he became a member of the band called Mimostojici (The Standing Beyond) that played an alternative rock. He recorded two demo-CDs with that band - Islamsky terorista (The Islamic Terrorist - 1999) and Za usvitu v cizim bytu (At Twilight in the Empty Flat - 2002).
In 1999 he also started cooperation with a violinist Dan Bartos who played with the bands 2kpb, U Hrebicku (At the Nails') and Posledni Vystrel (The Last Shoot) in the 90s. Since the year 2000 D. Bartos has played also in the band Dech noci (The Night Breath) - CD Zivlum (To the Elements).
The both musicians tested playing long pieces with pre-recorded background. The music was rather for now and here, so no sound recordings exists from that time. Perhaps only 2 short shots on a demo CD Kolory from 2001. But since that time the composition got shorter and their melodies blowed to the top.
The duet was chosen to play at the Prague festival Alternativa 2001 and for that occasion they invited a drummer Petr Hop Odstrcil who had already played with the band Dech noci. At that time he played the percussion and the trio performed at several concerts and vernisages with minimum rehearsals. At that time the band already performed under the name of Hasta luego (See you later).
© Indies Scope

IČ 105 34 181 / Dolní Loučky 191 / 594 55 Dolní Loučky u Brna