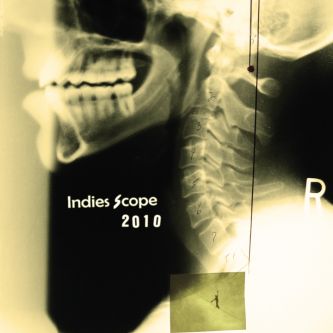 Indies Scope 2010
ABOUT
"A menu for gourmets and good music lovers in 2010"
Selection of the best stuff of Indies Scope releases in 2010


Traditional follow up of the line of annually released compilations which introduce bands and interprets whose albums are released by Indies Scope. The album contains 20 songs. This year's compilation of 2010 has again little perk - it exeptionally contains 4 songs from one album. It was very hard to choose only one song from the album 3B - Bongo BonBoniéra because there are seventeen songs by seventeen different interprets. That's why we used up the entire CD and we filled it all up!

There is a lot of bang for little money. For those who are not familiar with Indies Scope production this album is a useful help for better orientation in local scene or for choosing the whole album.

---
TRACKS
| | | | | | | |
| --- | --- | --- | --- | --- | --- | --- |
| | preview | name | time | download | price | free |
| | | 01 Traband - Kantorovy varhany | 04:07 | | € 0.62 | |
| | | 02 Tara Fuki - Sens | 03:34 | | € 0.62 | |
| | | 03 DVA - Tatanc | 03:22 | | € 0.62 | |
| | | 04 Sato-San To - Zheng Orient | 03:26 | | € 0.62 | |
| | | 05 Jablkoň - Narozeniny | 02:41 | | € 0.62 | |
| | | 06 Yellow Sisters - Tubab Women | 03:54 | | € 0.62 | |
| | | 07 Kelarová Ida & Škampovo kvarteto - Bares tut kama | 03:50 | | € 0.62 | |
| | | 08 Václavek Vladimír - Vikingům | 04:39 | | € 0.62 | |
| | | 09 Bezobratři - Tam poníže Rozhanovec | 02:53 | | € 0.62 | |
| | | 10 Luboš Holý & Musica Folklorica - Ked sem na koníčk | 01:40 | | € 0.62 | |
| | | 11 Musica Folklorica & Martin Hrbáč - Bola zima, velk | 02:15 | | € 0.62 | |
| | | 12 Lada Šimíčková & Ivo Cicvárek & OKO - Mikuláši! | 02:08 | | € 0.62 | |
| | | 13 Minach - Čokoláda | 02:33 | | € 0.62 | |
| | | 14 Květy - Medvídek | 01:17 | | € 0.62 | |
| | | 15 Květy - Ostatní stromy | 04:18 | | € 0.62 | |
| | | 16 ZVA 12-28 Band - Z ruky zobať | 02:40 | | € 0.62 | |
| | | 17 Poletíme? - SMSky | 02:55 | | € 0.62 | |
| | | 18 Hi-Fi - Buď jak fík | 04:15 | | € 0.62 | |
| | | 19 Michaels Uncle - Všechnu špínu světa | 03:27 | | € 0.62 | |
| | | 20 NIL - Follow Me | 03:28 | | € 0.62 | |
---
YOU MIGHT BE ALSO INTERESTED IN
Alternative | Folk | Gipsy | Rock | World music
© Indies Scope

IČ 105 34 181 / Dolní Loučky 191 / 594 55 Dolní Loučky u Brna