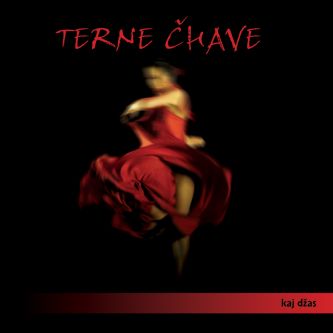 Kaj džas
ABOUT
Here you can find Gypsy Roots & Urban Grooves and other ingredients blended into an original musical style, with which Terne Čhave has already become firmly established on our stage and which has gained success even abroad. A new CD includes 12 in general own songs and as bonus 4 songs from the April concert in Prague Mecca, which have quite truly captured the excited atmosphere of the Terne Čhave concerts and have proved that the band becomes one of the most noted Czech concert attractions.
Studio records were leavened with many guests, among others e.g. Zdeněk Bína (-123 min.), Roman Horváth (Ida Kelarová and Romano Rat), Romany ballad singer from Brno Gejza Horváth or Libor Friedl (ex I.R.A.), two songs were produced by Michal Ditrich (Hypnotix).

Terne Čhave has been mostly automatically marked down as a Romany band, but it is not so entirely true today. Before recording of the disc several personal changes took place in the band and two Czech musicians Adam Pospíšil – violin (also Taliesyn) and Roman Kroupa – percussion (also Radium NFO etc.) have been added to the original 5-member Romany core of the band.
However major change has taken place in the Terne Čhave music itself – there prevail their own songs, firmly rooted in the Romany tradition, supplemented with traditional Romany songs, but their arrangement and presentation show an inspiration by all manner of musical styles - Latin, jazz, rock, folk and current dance music. With their sound and fusion of many styles Terne Čhave has been exceeding the limits of Romany music as it has been apprehended until this moment.


---
TRACKS
| | | | | | | |
| --- | --- | --- | --- | --- | --- | --- |
| | preview | name | time | download | price | free |
| | | 01 Kámes | 03:26 | | € 0.41 | |
| | | 02 Khamoro | 04:26 | | € 0.41 | |
| | | 03 Cinďom tuke angrusci | 05:29 | | € 0.41 | |
| | | 04 Sako rati | 02:08 | | € 0.41 | |
| | | 05 Šunen Roma | 03:12 | | € 0.41 | |
| | | 06 Čoripen | 03:19 | | € 0.41 | |
| | | 07 Ľoli ruža | 02:33 | | € 0.41 | |
| | | 08 Džava | 03:21 | | € 0.41 | |
| | | 09 Lavutaris | 02:43 | | € 0.41 | |
| | | 10 Suno džavas | 04:44 | | € 0.41 | |
| | | 11 Kale bala | 02:51 | | € 0.41 | |
| | | 12 Avtu čhaje tekhelel | 02:46 | | € 0.41 | |
| | | 13 Šun tu čhaje | 03:07 | | € 0.41 | |
| | | 14 Sako rati | 02:01 | | € 0.41 | |
| | | 15 Skeč | 02:04 | | € 0.41 | |
| | | 16 Dado, dado | 04:16 | | € 0.41 | |
---
YOU MIGHT BE ALSO INTERESTED IN
Ethno | Gipsy | World music
© Indies Scope

IČ 105 34 181 / Dolní Loučky 191 / 594 55 Dolní Loučky u Brna