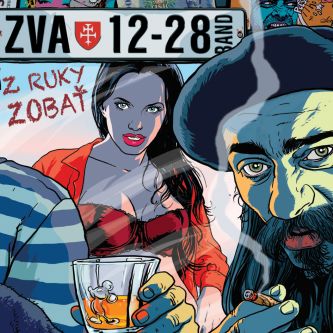 Z ruky zobať
ABOUT
The charismatic singer, unique guitarist, songwriter and composer Noro Červenák is a cornerstone of Slovak band called ZVA 12-28 Band, which now releases her third official album "Z ruky zobať". This comes on the market at a time when the band is celebrating twenty years of its existence and shows the "Z-V-As" in fine form. Also, the band completes here its transition from a blues band to an authentic singer-songwriter formation which in the style of Tom Waits tells the stories from non-traditional environment.

The formation from Zvolen has gone since 2007, when the full length album "Za fúzy ma poťahaj" was released, through personnel exchange which partly changed the sound of the entire band. The violinist Stanislav Fakan replaced outgoing Boris Čiampora, the harmonica player. A new member of the band has immediately become, thanks to his unique expression, a dignified and remarkably contrasting partner to the band leader Norbert "Noro" Červenák. This twosome is backed up by the bassist Ladislav Červenák and percussionist Petr Krško.

The recording "Z ruky zobať"is based on blues foundation which is deeply rooted in "Z-V-As'" style but everything else is an extension which can't be found in any other bands and it's not only about the remarkable interpretative and instrumental level. There has been written a lot about the originality of Noro Červeňák but his "Waits-like" hoarse voice adds this genuine hallmark of a man who sings about what he had gone through and you simply believe him every single thing. Grimly funny songs will guide you through a life of a musician where ordinary and absurd things are happening and are always worthy of recording. 

In the new album all songs have one author only and he is Noro Červenák; the exceptions are only two texts which come from the pen of Radek Pastrňák (Buty).  These are the songs "Láska musí bolet"and "Jednô ráno". Mutual sympathy has arisen between the two partners in a joint collaboration on the soundtrack for the movie by Alice Nellis called "Tajnosti".


---
TRACKS
| | | | | | | |
| --- | --- | --- | --- | --- | --- | --- |
| | preview | name | time | download | price | free |
| | | 01 Sám | 03:24 | | € 0.41 | |
| | | 02 Nik nejde | 03:50 | | € 0.41 | |
| | | 03 Z ruky zobať | 02:43 | | € 0.41 | |
| | | 04 Prečo | 04:20 | | € 0.41 | |
| | | 05 Bongo | 04:19 | | € 0.41 | |
| | | 06 Som kámoš tvoj | 03:56 | | € 0.41 | |
| | | 07 Láska musí bolet | 03:11 | | € 0.41 | |
| | | 08 Štiavnička | 04:49 | | € 0.41 | |
| | | 09 Ej veru veru | 04:18 | | € 0.41 | |
| | | 10 Jedno ráno | 02:44 | | € 0.41 | |
| | | 11 ZVA 12-28 Band | 03:28 | | € 0.41 | |
| | | 12 Diesel blues | 03:53 | | € 0.41 | |
---
YOU MIGHT BE ALSO INTERESTED IN
Alternative | Blues | Rock
© Indies Scope

IČ 105 34 181 / Dolní Loučky 191 / 594 55 Dolní Loučky u Brna