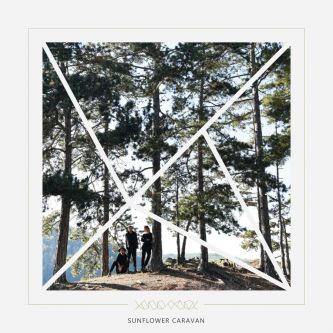 Corners
Vlastní náklad / 2021
Genres:
rock
SUN03
ABOUT
"You never know what's waiting for you behind the corner." Sunflower Caravan are coming with a brand new album entitled Corners. Czech indie rockers Sunflower Caravan are releasing their long-awaited brand new studio album Corners.

The cubism-stylised album title draws attention, brings hint of mysteria, and wraps a full-bodied 60-minute set of seventeen songs, ranging from fierce rock'n'roll pieces driven by sharp keyboard riffs to mellower pop tunes, along with two short instrumental intermezzos.

First singles released from the album beforehand were mostly louder cuts, however the band offers rather broad scale of indie pop moods, of course including several strong choruses, so typical for this Prague-based trio. The album will contain the outcome of several interesting musical collaborations; one of the tracks features Brian Viglione of the legendary Dresden Dolls on drums. Another song features a guitar track, first in the band's history, laid down by Vladimir Bar, the guitarist for a Czech well-known and highly regarded band Tata Bojs. Four of the album's tracks are undrlined by a live string quartet called PBQ.
---
TRACKS
| | | | | | | |
| --- | --- | --- | --- | --- | --- | --- |
| | preview | name | time | download | price | free |
| | | 01 The War | 04:13 | | € 0.41 | |
| | | 02 Sailing Back | 02:52 | | € 0.41 | |
| | | 03 The Business (Will Carry On As Usual) | 02:25 | | € 0.41 | |
| | | 04 Kind Of Happy | 03:58 | | € 0.41 | |
| | | 05 The Morning | 02:17 | | € 0.41 | |
| | | 06 Angels | 04:26 | | € 0.41 | |
| | | 07 Ghost | 03:59 | | € 0.41 | |
| | | 08 Dont Stay Alone | 05:36 | | € 0.41 | |
| | | 09 Welcome | 03:51 | | € 0.41 | |
| | | 10 Alright | 04:08 | | € 0.41 | |
| | | 11 1994 | 01:10 | | € 0.41 | |
| | | 12 Corners | 04:00 | | € 0.41 | |
| | | 13 Wonder Why | 03:34 | | € 0.41 | |
| | | 14 We Still Talk About It | 02:51 | | € 0.41 | |
| | | 15 I Saw | 03:27 | | € 0.41 | |
| | | 16 2001 | 02:54 | | € 0.41 | |
| | | 17 Wonderful Time | 03:27 | | € 0.41 | |
---
YOU MIGHT BE ALSO INTERESTED IN
Rock
© Indies Scope

IČ 105 34 181 / Dolní Loučky 191 / 594 55 Dolní Loučky u Brna