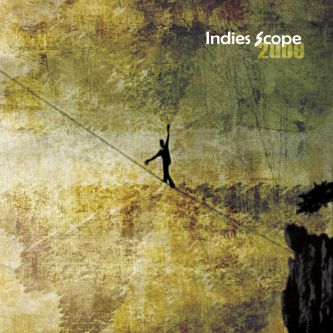 Indies Scope 2009
ABOUT
When you order CD or DVD for more than 699,- CZK (29 Euro,- or 39,- USD) on our website you will get a free gift "Indies Scope 2009" CD which consists of the best songs published this year.

Traditional follow up of annually published compilations introduces bands and interprets publishing in Indies Scope. This year's compilation of 2009 has again one specialty; among others contains exceptionally four songs from one album. It was very hard to choose only one song from the album Ztracený ve světě/Lost in the World - A Tribute to Oldřich Janota, because of the fact that 16 different interprets contributed their cover versions to this album. That's why we used up the entire CD capacity (80 minutes) and filled the CD up to the very top!

The compilation could be found in series of albums labeled with a phrase, lately very appreciated by collectors, "So much for so little money". For those who are not familiar with Indies Scope production this album is useful guide for better orientation in local scene or for a choice of the actual album.


---
TRACKS
| | | | | | | |
| --- | --- | --- | --- | --- | --- | --- |
| | preview | name | time | download | price | free |
| | | 01 -123 min. - Love And Sugar | 05:39 | | € 0.60 | |
| | | 02 AL-Yaman - SI-RAA | 04:42 | | € 0.60 | |
| | | 03 Evolution Dejavu - Kurare | 05:07 | | € 0.60 | |
| | | 04 Lesní zvěř - Dusty Roads | 04:22 | | € 0.60 | |
| | | 05 Fru Fru - Tanec vlků | 04:26 | | € 0.60 | |
| | | 06 Květy - Tulák | 04:59 | | € 0.60 | |
| | | 07 Kašpárek v rohlíku 2 - Lupiči povidel | 03:07 | | € 0.60 | |
| | | 08 BraAgas - Una Tarde De Verano | 03:13 | | € 0.60 | |
| | | 09 Tomáš Kočko & Orchestr - Kračún | 05:14 | | € 0.60 | |
| | | 10 Ida Kelarová & Jazz Famelia - Šunes man | 04:06 | | € 0.60 | |
| | | 11 Žamboši - Dřevorubecká | 04:20 | | € 0.60 | |
| | | 12 Jiří Pavlica & Hradišťan - Dřímotěnka | 02:21 | | € 0.60 | |
| | | 13 Cimbálová muzika S.Gabriela - Čo robíš, Hanička | 02:02 | | € 0.60 | |
| | | 14 Tara Fuki - Čekání | 05:27 | | € 0.60 | |
| | | 15 Jana Vébrová & Ivan Acher - Červen na Svaté | 03:30 | | € 0.60 | |
| | | 16 Traband - Druhý břeh | 04:10 | | € 0.60 | |
| | | 17 Minach - Tvůj stín | 03:15 | | € 0.60 | |
| | | 18 Peter Lipa - I Saw Her Standing There | 06:00 | | € 0.60 | |
| | | 19 Tim Eriksen - Every Sound Below | 04:12 | | € 0.60 | |
---
YOU MIGHT BE ALSO INTERESTED IN
Folklor
© Indies Scope

IČ 105 34 181 / Dolní Loučky 191 / 594 55 Dolní Loučky u Brna