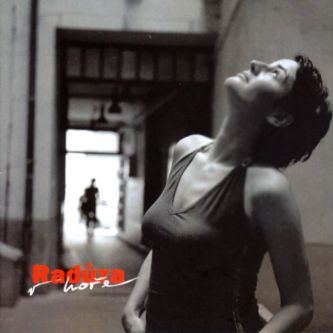 V hoře
ABOUT
A singer, multi-instrumentalist and authoress of music and texts - RADUZA
spent very successful year. Sold out concert halls, 3x Czech music awards
"Angels 2003" for the CD "pri me stuj" , (Stand By Me) (Best Female Vocal
Performance/ Discovery of year/ Best album of year - Folk & Country) and a
gold record for the number of sold media.
During February and March, Raduza was spending her time isolated in the studio and recorded new songs. Besides them, she recorded songs that one can hear on her live concerts. This way she created 21 tracks – everything took place in the music studio Largo in Prague. František Raba from the band KOA took charge of the sound direction. On the new album, "V hore", naturally a few interesting guests took part – for example the guitarist from KOA, Omar Khaouj, above mentioned František Raba with his double-bass and violin, or Ivanka Pokorná with her harp. The sleeve of the CD was, similarly as with the preceding album, designed by Richard Procházka.
We have no other choice than to give in to the temptation from the good music and listen to the 58 minutes´long album, which will overwhelm you with songs that again do not miss energy and individual poetics. The pieces oscillate from chanson through reggae towards inspiration by folk or classical music. The whole compilation is floating on the waves of high and low tide. Like this, it is able to lead our senses into the sad places of our soul, to swirl them suddenly with an unexpected and sofisticated music drive.


---
TRACKS
| | | | | |
| --- | --- | --- | --- | --- |
| | preview | name | time | free |
| | | 00 Blondýnka | 01:28 | |
| | | 00 Bylo nebylo | 02:20 | |
| | | 00 Čutora | 03:16 | |
| | | 00 David | 04:37 | |
| | | 00 De Nîmes | 03:15 | |
| | | 00 Dědek s cibulí | 02:34 | |
| | | 00 Mulhouse | 01:58 | |
| | | 00 Na sever (Forde) | 02:03 | |
| | | 00 Nebe-peklo- ráj | 02:46 | |
| | | 00 Pandora | 03:53 | |
| | | 00 Papierosy | 03:00 | |
| | | 00 Plachta | 01:34 | |
| | | 00 Sněží | 02:45 | |
| | | 00 Teď když spíš | 01:48 | |
| | | 00 Tuti- boty- ré | 01:49 | |
| | | 00 Una cartolina (pohlednice) | 01:09 | |
| | | 00 V hoře (Nigardsbreen) | 05:22 | |
| | | 00 Vojáček z cínové lodi | 02:56 | |
| | | 00 Vše je jedním | 03:42 | |
| | | 00 Zahrály housličky | 01:36 | |
| | | 00 Zas oči moje | 03:27 | |
---
YOU MIGHT BE ALSO INTERESTED IN
Acoustic | Folk
© Indies Scope

IČ 105 34 181 / Dolní Loučky 191 / 594 55 Dolní Loučky u Brna