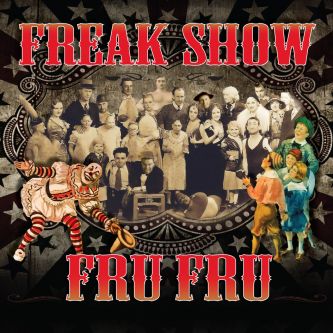 Freak Show
ABOUT
Here is it again and nothing has really changed. Václav Bartoš is a great original singer and author and his band called Fru Fru is alive and kicking like it has never before. He proves it on the new album titled Freak show which is the most accessible album of this rock foursome. The new album with original music production and inventive lyrics, cutting through all music genres, contains a bonus in form of a hyperbole which the band uses in their lyrics, presentation and videos.
 
Freak show is an album in which the band have put great effort and prepared it for more than a year together with the producer Milan Cimf who also recorded the album and then mixed it in the Sono studio. And the final result is remarkable.  Steel drums which are used by the leader of the band and singer Václav Bartoš sound like they had been recorded overseas and the guest saxophones of Marcel Bárta or the Hammond of Jan Coufal appear in the right moments and emphasize the overall successful album. The real cherry on the top is the guest performance of Lenka Dusilová who returns the vocal participation of Vaclav Bartoš on the album Baromantika.
 
An integral part of Fru Fru is the videos. For the opening song called Pánská Freak Show the video was made by Tomáš Matonoha and many famous actors participated in the video as authors as well. In the video you might find out if women prefer muscular individuals to the real men. The side of "real men" was performed by Petr Čtvrtníček, Tomáš Matonoha, Lukáš Pavlásek and Oldřich Navrátil, whereas the muscular sportsman was played by Zdeněk Moravec from the band DeaMen. The presenter was a very talented actor Jakub Žáček. The female part of the audience was represented by Nela Boudová. (The new video can be seen at: http://youtu.be/QlbUvJHgUG0 ) Fru Fru prepares now two new videos.


---
TRACKS
| | | | | | | |
| --- | --- | --- | --- | --- | --- | --- |
| | preview | name | time | download | price | free |
| | | 01 Pánské Freak Show | 04:14 | | € 0.41 | |
| | | 02 Tak jak | 04:12 | | € 0.41 | |
| | | 03 Modlitbička středověkého rytíře | 05:02 | | € 0.41 | |
| | | 04 Lovec úst | 04:24 | | € 0.41 | |
| | | 05 Válka | 04:58 | | € 0.41 | |
| | | 06 Tajemná horská bylina | 04:46 | | € 0.41 | |
| | | 07 Touha | 03:54 | | € 0.41 | |
| | | 08 Kdo jsem já? | 04:27 | | € 0.41 | |
| | | 09 Realita | 04:14 | | € 0.41 | |
| | | 10 Kdybys to chtěl | 04:35 | | € 0.41 | |
---
YOU MIGHT BE ALSO INTERESTED IN
Rock | Alternative
© Indies Scope

IČ 105 34 181 / Dolní Loučky 191 / 594 55 Dolní Loučky u Brna